I'm starting this thread to document my efforts toward a CNC plasma cutting table, based on the LowRider, most likely v3.
This is all a work in progress. Thanks for your patience and understanding. It will take time for me to test and prove my solutions. I am documenting as I can due to time constraints.
I'm gaining mountains of both information and inspiration from Kyle's (kd2018's) plasma thread here on the V1 forum:
Let me start by giving what I believe are my two to three best "budget friendly" tips, so far.
Saving $$ on Table & Water Pan (actually pans!)
I greatly admire Kyle's welded beauty of a table (4'x4').
I seriously considered that approach, and also considered building a table out of some 1.5" aluminum square tubes I have, using thick bolts and drilled holes. In the end I went with another approach (drum roll, please). First, a bit more explanation while I keep you in suspense.
The plasma torch and its cables are not all that heavy or hard to move around for a CNC. As one YouTuber proved, it can be done using a lightweight frame (intended for diode laser CNC) made out of 20 mm x 20 mm aluminum extrusion! NEMA 17 steppers are certainly up to this task.
However, any sheets of relatively thick steel you plan to cut are substantially weighty, and so "from the material down" your table needs to be able to hold quite a bit of weight. As the above YouTuber proved, the table to hold the sheet to be cut, and the frame for moving the torch, don't even need to be firmly attached to each other!
So, in case you ever wondered why such a lightweight job (moving the torch) has been done by extremely thick, strong, heavy CNC tables, it's because of holding the steel sheet, not the torch, per se.
That said, I have been operating on a tight budget. In preparation for shelling out enough dough to procure a decent plasma machine, a decent machine torch (aka pencil or straight torch), and various other needed things, such as a MESA ethernet breakout board and MESA THCAD to monitor arc voltage for enabling torch height control, an old-yet-decent laptop with touch screen, for running LinuxCNC, and various other tidbits including 24v and 5v power supplies, EMI Filter / Noise Suppressor to keep the power lines cleaner, an "Air Compressor Filter Regulator Combo, Water Oil Separator with Pressure Gauge, Manual Drain, Ball Valve and Bracket" to keep the incoming air dry, DIN Rails for mounting electronics, TB6600 Stepper Motor Drivers, and on and on the list goes…
I quickly realized I could not (at this time) even think about affording a $2,500 Hypertherm name brand plasma machine, let alone a turn-key CNC table, not even the least expensive decent ones such as from Langmuir, makers of the popular Crossfire CNC plasma tables.
I also realized I needed to save money on any plan for table and water pan(s) (for "down draft" type cutting). Also, for safety, I want the table to be metal. I also wanted something like a 30" x 60" table (inspired by Crossfire CNC table) so I could mount the LowRider and still have enough width to slide in, and cut, full width sheets of metal, even if I had to support longer sheets hanging off front and back, and potentially do "registration" cuts so I could cut longer length pieces in multiple cut jobs.
To save money and yet get a decent CNC-ready plasma cutting machine, I went with this one:
Affiliate link: https://amzn.to/3BCjJiy
My price: $499.99
I've received it and it seems all as described. I have not yet had occasion to test it. Other specs/details from the listing include:
And here's the CNC torch they recommend for those who want a "machine torch" aka pencil torch, straight torch, etc, to work with their CUT60DN:
Affiliate link: https://amzn.to/3OMfrIB
My price: $199.99
I've received it and it seems all as described. I have not yet had occasion to test it. More pics / specs / details:
So…my "out of the box" answer, re. table?
A stock, food-service type table made of stainless steel. I turned to the Vevor brand (no doubt a China import type company) that I'd bought from in the past and was pleased with both the quality and the price. See below.
A certain type of stainless steel food-service equipment table is lower than normal table height because of the chef's/baker's desire to put tall equipment on it (such as big blenders, etc), and things still not be too tall or out of reach. That kind of table is meant to support heavy loads, and while the low height is not a crucial deal breaker, if I attach heavy duty casters, it will raise the top height, and adding water pan(s) will raise it even more. To make casters work, I may well have to weld some steel plates on the bottom of the legs, but I can do that. I just recently bought a welding machine from Harbor Frieght and taught myself to weld, bare minimum skill to get by.
The price on the table was definitely attractive. Here's the listing link, price, and pic:
Link: VEVOR Stainless Steel Table for Prep & Work 60" x 30" Kitchen Equipment Stand | VEVOR US
My price: $259.99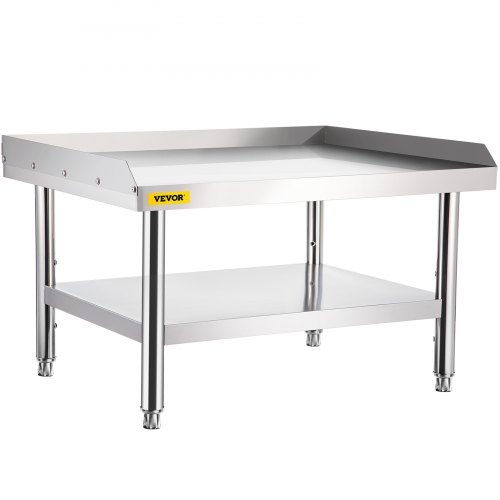 Note: The splash guard is often welded onto these tables, but this one is bolted on, and thus removable. Plus, it's height may not be an issue with the water pan(s) and may even be desirable.
The table has been shipped but has not arrived.
My out of the box answer, re. water pans?
This needs to also be metal, definitely stainless steel is preferred. Here again, I considered that there are off-the-shelf pans, perhaps half as big as I would want, available relatively affordably, intended for use as drain pans under washing machines, etc.
I found an affordable listing (below) such that I could buy two of them and place them side by side on the table above.
Affiliate link: https://amzn.to/3S980OF
My price: $129.99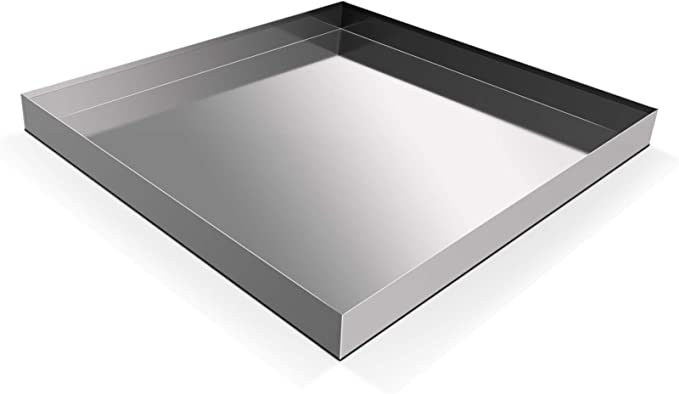 The pans have been shipped but have not arrived.
Steel Slats for CNC plasma bed
I'm taking some inspiration from Langmuir Systems Crossfire CNC tables for how they have slats in their water pan for holding the metal to be cut. Since those slats are a "consumable," they sell them in sets of ten (10) on their site, and the price seems decent, compared to cutting my own slats from flat bar. So I bought a couple of batches:
Link: Steel Slats (Pack of 10) – Langmuir Systems
My price: $39.95
I want to again say how much I appreciate the great source of help that Kyle @ kd2018 has been.
I'm sure I'm leaving off a lot, but hopefully this will be a start on documenting.