It took me a long time to get my MPCNC Primo done. I printed the first parts around 2 years ago.
Back than I chose the Primo because I liked the look better over the LR2.
Now that I have the Primo working for a few weeks and really looking at the LR3 for the first time I think this is a fun new project.
At the moment I'm test things with the Primo. Things like work holding and cutting parts longer than the Primo in 2 or 3 steps. That is why I already made the strut plates for the LR3.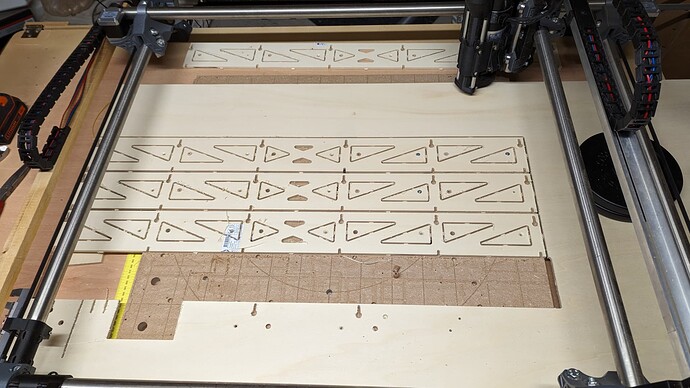 The decision to start with the LR3 was made when I found the Alu plates I had laying around for years. I had problems with the Primo when I started because of crappy endmills.
When I bought better endmills I also bought one for aluminum.
I made a few mistakes and had to start over a few time and figure out a way to find the work origin again.
In the end I have learned a lot and have two nice Alu XZ plates. 9 mm Alu is a bit overkill, but it is a good feeling to know I made those myself.
I was amazed how well the Primo did on Alu.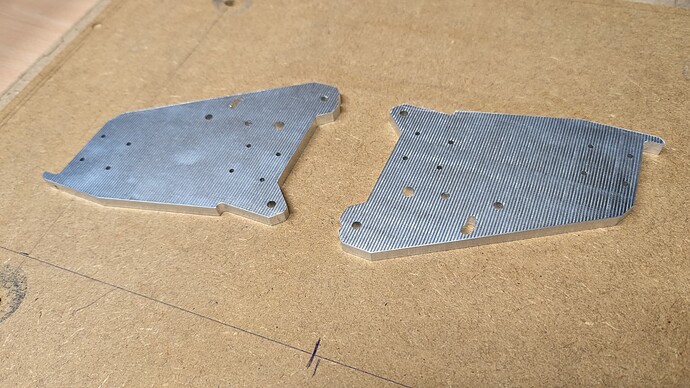 Now I have to decide what size to build. I cut the strut plates at 830 mm for a 650 mm for a usable X cutting area and a 1300-1400 mm Y.
But looking at Der Froschkönig from @Tokoloshe I'm not sure now. The wider X compared to the Y gives some neat options to cut larger pieces.
Maybe just stick to the original plan and see how that works. That should give a rigid build.
And decide what control board and firmware to use. I started my Primo with and old Ramps 1.4 board and Marlin. After killing that board (my own mistake), I now use a MKS TinyBee with FluidNC.
I would love to order a Jackpot board, even if it was just to support Ryan. But the shipping cost to The Netherlands is a bit steep.
Maybe go for the Jackpot anyway, or another TinyBee, or a SKR Pro with touchscreen.
Not sure if I want to use Marlin again. FluidNC has been flawless since the last update.
And of course I managed to mix up the print files and print 3 braces in the wrong size.
Now printing the 25 mm version instead of the 25p4.