Unless I was looking at the wrong pipe type, this is going to be very expensive.
Also check the locals and ask about bot stainless and DOM
It should be around $100-$120 for all the tubing for a 2ft by 2ft machine right now, steel pricing is still a little on the silly side right now. If I had to special order material I would do midweststeelsupply since their pricing is right in line with my local shops.
The tubes for me to build a full sheet lowrider was $95, but that was years ago.
If you have a tractor supply, or rural king close by, they sometimes sell DOM steel tube in the welding section. It's not stainless, but a light coat of paste wax will keep it from rusting.
Appreciate the recommendations, guessing others do too.
Is there a wiki where people are contributing supplier recommendations? Or should the material/build docs contain something like…
Rail options
$ EMT (cheap, probably good enough for starting-out, easily available at Lowes/ HomeDepot)
$$ DOM Steel in the welding section, with light coat of paste wax.
$$$$ DOM Stainless steel tube.
? Carbon fiber, other…
Metal Suppliers
Europe
North America
Canada

USA

Online and/or National (i.e. 3+ states)

www.MetalSupermarkets.com

Ignore online pricing, for best price, talk with your local MetalSupermarket franchisee and skip their online portal. See related post
Maker feedback: @Henslee, @winterminute

www.OnlineMetals.com (CA,CT,GA,OH,TX,WA)
Rural King https://www.ruralking.com (many states)
Tractor Supply Co https://www.tractorsupply.com (many states)
https://www.summitracing.com/about/retail (OH,GA,NV,TX)
www.speedymetals.com (IL,MI,WI)

Delaware

Minnesota

Ohio
Oceania
The only option is steel tubing imo. EMT is dimensionally incorrect, you would wind up spending around $150~$200 on the one piece of 1.25" stainless tubing if you went that route, the 1" SS tubing is almost twice the cost of regular steel tubing, and CF is not suitable for a bearing surface, it could be epoxied to the ID of the steel tubing to increase stiffness but it really isn't needed.
That is a good start to a list of potential places to get the tubing. It is the one thing that I have no clue on how available it is to other people. I have 2 welding/machine shops within 2 miles of me that I can swing in and get material from cut to length, I basically only have to order it if I need a specific size or a specific material that they don't have on hand. I am absolutely on board with putting a good list of places to get the tubing from that people have had good experiences with.
I've started printing the Brutus… Still haven't finished the LR3, but I had to sacrifice two of the steppers I ordered for another project so I guess I'll have to put in a second V1 order for two extra motors and parts for the Brutus…
Do you control the VFD with a 10v control signal or just adjust on the VFD itself?
Does the misting system cause the timber to swell?
I just manually control my vfd with a remote switch (fwd/off/rev) and the trim pot on the vfd for speed adjustment.
So far the mist hasen't caused swelling on the MDF base I have the fixture plate and vises mounted to, want to make a new table for it so I haven't bothered coating it with anything.
I've only been able to find 1.5mm wall thickness SS tubing…I might shrink the work area down a little to compensate.
I'll try post some updates in here once I start assembling, it may be a month or so away
A couple for Oz.
Nuts and Bolts from BoltandNut. This is awesome as you can order the exact number. Just watch the price points listed, as buying an extra one can drop the total price.



I used this power supply from Banggood.
A
There's also a free, or low cost, option. When the tarp gives up people give the frame away or sell it for nominal value. I've picked up a couple of these and salvaged a load of 4' lengths of 1" and 1¼" OD tubes for my builds.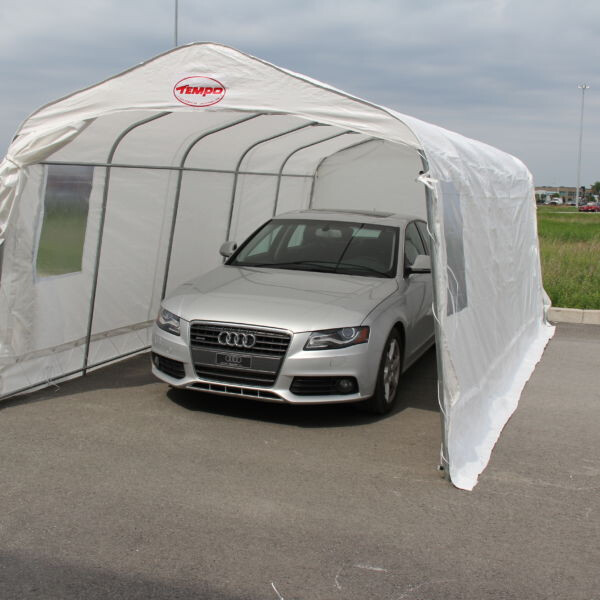 I totally want some of these without the tarp!
Just to put my .02c in on the matter of steel tubing, I was able to get everything in 11ga (.125 wall) 304 stainless from cormark metals for right around $220. A bit pricy, but I have a lot of humidity to combat.
This is also sized for a 2ft x 4ft (with a smidge of extra) cutting space. I haven't finished printing and assembling, but all of the parts are pouring in and half assembled on my desk as things come off the bed. All in I'm at about $550 without PLA+ cost, wiring and controller. The power supply I have is a 300w 24v supply I ripped from a robotic vending machine at work for free.
I have Gaui X3 sitting on a shelf with an iKon in it. I stopped flying when a friend crashed his Goblin and the repairs were over $700. At the time I was looking at buying a gas powered one that was going to be over $1k used. I decided I couldn't afford to crash at the time.
Id still fly the gaui, I used to have 2 of them and were super cheap to fix. Imo the Gaui X3 is the ultimate beater heli.
It's pretty amazing. I've moved farther away from the RC club I was a part of and I don't really have anywhere to fly something that big safely. I could fly it in the field behind my house, but it's a cornfield and if I went down, I'd probably never find it.
I have considered some of the newer blade helis, but I've been chasing other hobbies recently.
I also raced the 250 quads for a little while. I didn't have the time to devote to it and very quickly was being out flown by everyone. At this point, my quad is so far behind on technology it wouldn't be competitive. I did take it up last year. It still flies well.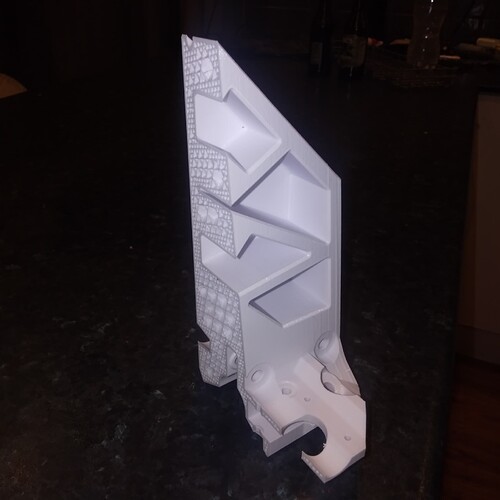 Presenting a 40% complete l-upright!
Experiencing some heavy rain - left a little 5v psu which controls the fan for my (currently empty) mushroom tent too close to the window…the PSU got wet and tripped the RCD/GFCI!
Held off printing the parts as the printer nozzle got blocked so I upgraded to an all metal hotend.
I've managed to pick up quite a few lengths of 25mm square box tube which might make up the table…
It's little reasons like that why I have UPS's on both of my printers, a small bit of insurance against short outages, brown outs, or an accidentally tripped gfci or breaker.
I do have a small update in the works to address an issue I found when pushing the machine in aluminum. Just changes 4 of the upper bearing bolts on the carriage to 40mm length and one extra part to print. Havent gotten around to properly testing it but static testing shows promise.
Eeek - should I stop printing the brace?