Yeah, the PLA sure gets soft during prints… I didn't print fan shroud yet, currently only have the tiny end fan on H2S. Reason is am using old carrier still, plan to print fan shroud after updating carrier first.
Since the printer seems too be a never ending project, before any more upgrades, am spending time wrapping up sharing content captured first. May have figured out an interesting way for people to watch the build however they want…
That discord picture really messes with me. Why is it mirrored?
Also, the fan shroud I have on mine works with my new carrier.
Lol, yeah Discord/social apps simulate mirror behavior when previewing. Nice benefit is that the external tags end up being readable.
Currently uploading 200 part build series that's 10x playback speed. After that's done will upload another set of 200 encoded for audibly understandable playback rate…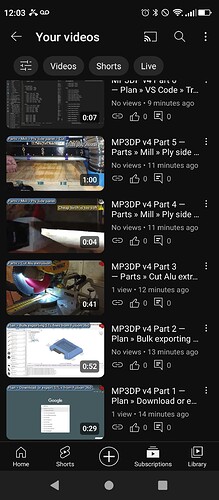 Working on custom player that pulls everything together. An experiment that could be great, or a waste of time, will see…
Work in progress, still uploading 10x content… Planning to create a better player experience.
Edit: Sharing content in a more accessible form…
Well done, I'm gonna start watching it tonight.

Thank you. Hoping to share a better player experience within a few days.
Wow that's a lot of content! Incredible job of keeping track of all your work.
149 videos? Wow. Watching those would take me longer than assembling the MK4.

Sometimes I really envy you guys and the time you have for your hobbies.