It's alive… Kinda
Thanks again to everyone that helped me get here. I really hoped to get more in progress photos but none the less here we are!
I went with the SKR Pro 1.2 with the TFT screen and later decided to add on a le potato (RaspPi alternative). I HAD picked a black and red color scheme… Then things broke, or imperfections found their way to the surface… yada yada yada… Which is why I have (at least for the moment) gone with the name Work in Progress. It is also a work in progress, in the future I hope to have some sort of color scheme vs the "art " that I currently have. I also plan on adding a custom front strut (Thank you @azab2c), doing much more finishing work on the wiring and dust collection, LEDs! cause why not, a diode laser, and possibly a drop section on the table.
So without a further ado I present a Work in Progress cough…cough… ignore the uncut zip ties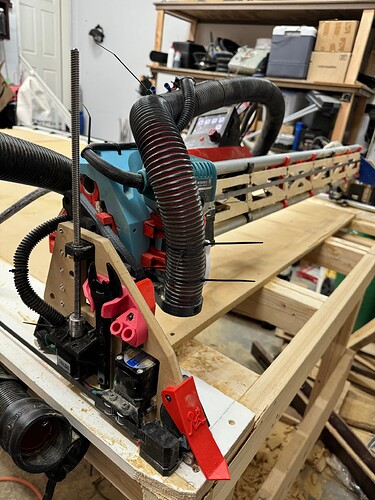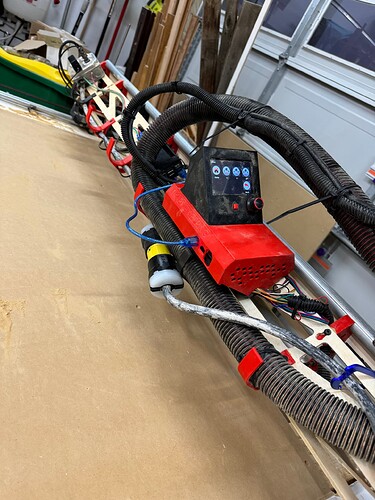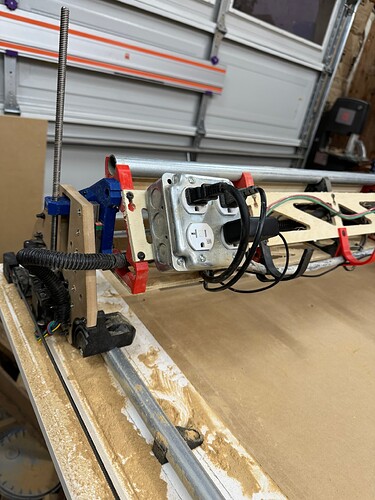 Some special features that I added was a incorporated outlet with half of it being switchable via low level relay; I used a 250v plug and connector to create a quick disconnect for the outlet; used a quick connect adapter for a grounding cable in the vac hose; I used @*vicious1's vacuum hose connector; I added many of @*DougJoseph accessories like the kinematic accessory mount with pen mount, Boot tips, Makita tool and collet holder, and the extended dust boots (not pictured); Also used How To Homemade (not sure the tag) reinforced hose hanger, and table hose hanger; Also @*azab2c Dust Flap; Finally I also added @*Michael_Melancon Makita adjustable mount.