I'm rethinking my set up for my Lowrider.
Fist a background
I need to be able to cut standard plywood thicknesses form 1/4" to 3/4"

I also need to cut up to 4" thick foam.

I currently have an LR2. (before you say it, I am considering the LR3, but I have limited hobby budget funds so it won't be immediate. maybe something over the winter)

I just updated to the jackpot board and in the process started to have an x axis drift. I do not believe it is related to the jackpot, but just discovered it now.

I also have a crack in one of my parts and will need to disassemble the LR2 to replace it.
here is my misplaced post.
I chose the LR2 (this was before the LR3 was released) because of the potential wide range of Z. I was hoping I could use a 10" Z travel which would allow stability for cutting wood, but understood I would loose some strength when raised higher, but I was only cutting foam.
After talking with Ryan what I should have do is lift the cnc on risers which would allow for the 4" foam cutting and then use platforms to bring the wood to the gantry when I need to cut wood.
I recently built a torsion box table that allows for the clearance of the LR2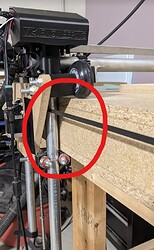 this will make lifting it on risers difficult and the main reason why i'm considering the LR3.
So first I'm looking for ideas on making risers for the LR2 to keep me going while I look into the LR3.
Preferably these risers would work for the LR3
the second thing is what to do for lifting plywood up to the raised gantry height.
I want to make it easy to pull in and out.
Another way to think of this is to make the risers height adjustable, but that seems complicated.
I remebered this video of a guy building a co2 laser and uses a belt drive system for raising and lowering the bed. Maybe could be used for something here.
go to 7:59

Looking forward to some ideas.