Here is my setup using a kitchen scale: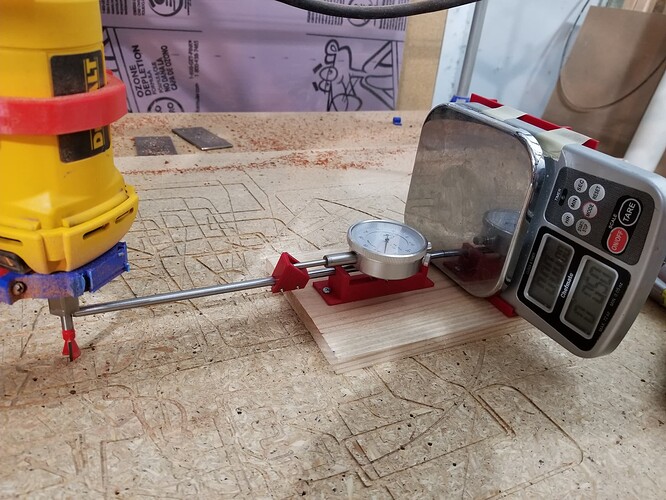 The starting point idea is that I can command the machine to move in small increments to push the rod and register the force as a function of commanded movement.
BUT the scale itself deflects, meaning the deflection of the tool may be less than the commanded movement. If you imagine the extreme case where the tool is infinitely stiff and the scale is soft, then the scale deflects and the force vs. distance relationship is just the spring constant of the scale.
Therefore I have a dial indicator to measure the axial motion of the rod. Then I can distinguish deflection of the tool from deflection of the scale. Tool deflection is commanded motion minus dial indicator motion, and scale deflection is dial indicator motion.
The net result is this: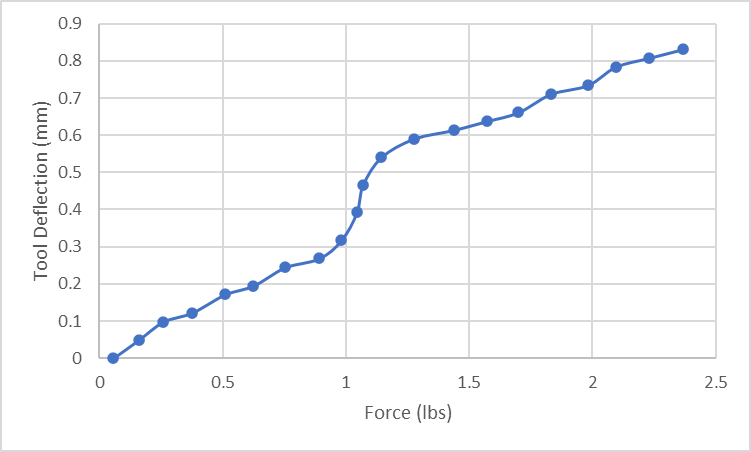 I have no explanation for the "soft spot" around 1 lb force. I'm guessing it's probably not real and I need to run the test a few times to see if it appears every time.
I don't know what the average machine stiffness would be numerically, but I have a feeling my measurements are not representative (i.e. significantly worse than average), for several reasons:
It's a bit old and creep may have loosened some of the joints relative to when it was new.
The machine is larger than recommended (3 foot working dimension)
It's still using 6mm belts (and they are long)
This is near maximum Z depth of about 9 inches (!!) below the bottom of the core (double-decker helps, but still…)
In the end this technique sorta works, but it is not really suitable for breaking down the deflection into components. I could measure deflection at low Z and high Z to estimate tilt vs lateral deflection, but I can't easily apply force and measure deflection of trucks vs. tubes vs. tool mount.
We'll see. Maybe I can get a better technique.