I've been kicking around the idea of building my own take on a CoreXY printer for a few years now. I've looked at many of the existing options (HyperCube, VzBot, HevORT, RatRig, RailCore, Voron, etc etc) and have read through a lot of build blogs for other personal projects (Like Mark Rehorst's UMMD). The end result of all that reading is that I decided none of the existing designs quite scratched this particular itch so I went about designing my own take on the CoreXY printer while incorporating as many "clever" ideas that I have gleaned from other builds as possible.
Here is a (non-exhaustive) list of aforementioned clever/bad ideas:
CoreXY motion
Frame does not rely on carefully cut and assembled aluminum extrusions
Parallelism of the critical belt-sections is not dependent on very precise assembly of frame/motion components
Belt-path will avoid cantilevered belt pulleys as much as possible.
Entire build will not rely on extremely high-tolerance parts of any kind (save the ubiquitous "MGNX" linear motion components).
Rely as little as possible on structural printed parts.
Eschew toothed/smooth idler pulleys for stacked sets of flanged bearings (taking a page out of the Voron playbook).
Use an ultralight carriage (Sherpa Micro extruder and very low-profile/weight accessories, or a bowden extruder) to allow the use of an unsupported (or minimally supported) X rail.
Utilize Klipper Firmware (with input shaping) to loosen the requirements on axis rigidity somewhat.
etc. etc. etc. (but that probably covers most of the "big ideas".
Taking all of that into consideration the end result is something close to this: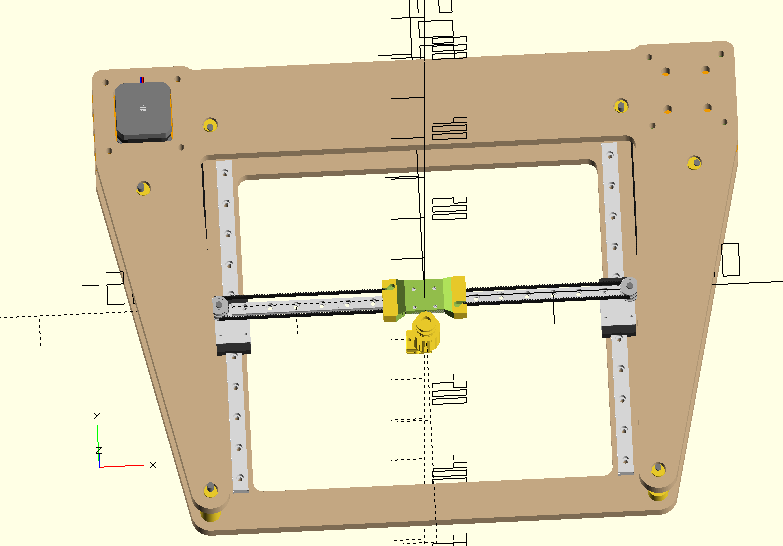 XY motion is via three linear rails (Y is MGN12, X is MGN9). All of the pulleys are pairs of F695 bearings (like the Voron 0). Pretty much everything is sandwiched between two sheets of 1/2" MDF so all of the motor mounts and idlers are supported at both ends (nothing cantilevered). The XY pulleys are stacked on a single M3 bolt (with 5mm bushing) rigidly connected to the Y rails (and the X rail is rigidly connectec to the two X rails. Those are not cantilevered, but being rigidly attached to the steel carriages they shouldn't be prone to 'creep' like a printed part. The 'critical' CoreXY belt sections are kept parallel with the help of eccentric pulley idlers at the four corners providing +/- 2mm of adjustability to make sure things are lined up even if I end up drilling the holes in the plates by hand. I'm still playing around with the carriage design but currently I'm trying a Sherpa Micro, Ender-3 style hotend, and a part cooling fan.
Here is a recent render of the X carriage. The fan duct is being reworked to actually cool the part without crashing into it and the rear blower fan has been relocated.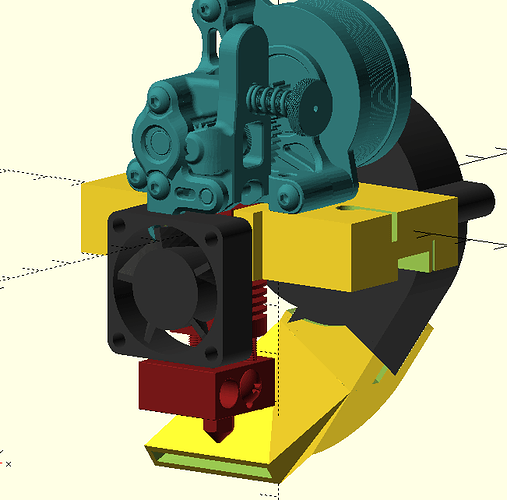 Here are the stacked pulleys on the Y carriages: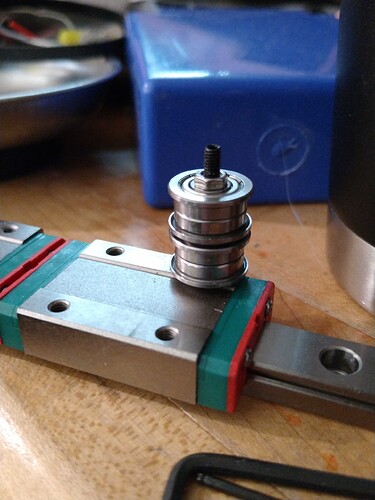 Once I actually get a working CoreXY motion I'll continue on with all the bad ideas I have for a Z axis

.