Coasty - CNC Calibration, Quality and Speed Test Coaster
Latest version on github. win-a-kobalt-router-4-5 motivated me to try out some things I've been thinking about. Sharing what I did, hoping it helps others, and to get feedback/suggestions on what to do better? Cheers!
Attempt #1 - Meh…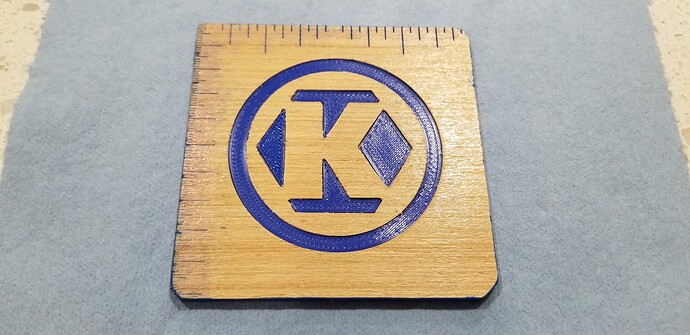 Practical small (i.e. fast) CNC and Printer project to help learn/practice calibrating CNC and Printer. Try out pocket holes, engraving, contour cut, basic inlay, and color filling.
Support my beverage.
Includes Metric and Freedom markers.
kobalt-mat.stl model
kobalt-mat-profile.dxf Mat design exported from Fusion 360 sketches I created.
EstlCam project files:

mat-engr.e10 - Pocket holes
mat-hole.e10 - Engrave
mat-cont.e10 - Contour Cut (includes tabs)
NOTE: Used short file names because long filenames don't render/execute correctly on my ESP3D-Marlin setup.
QUESTION: Created file per operation. Please let me know if there's a way to have single EstlCam project file, that contains multiple layers and/or multiple groups of Cam operations?
220 grit sand smooth, vac and microfiber clean debris/dust.
2 coats of spray Shellac
Pocket, Engrave, Contour…

Pocketed using 1.2mm Nano Blue Coat carbide bit (from 40pc set of various bits)
Engraved using 30deg offset V carving carbide bit
Contour cut using 1/8" single flute upcut carbide bit (V1E Shop).


Print PLA parts for inlay…

Test fit inserting inlay parts. Had to reprint PLA ring. Take pic far enough back to hide shoddy cleanup…

Color fill with Acrylic paint. Needs to dry, sand clean, then Shellac again…
320-400 grit Sand to remove rough edges and stains.
Attempt #1
Should've engraved deeper, was 0.4mm
Need to adjust PLA part height and/or Pocket depth. 3D parts too thin.
Should adjust PLA gap tolerance for inner parts. Gaps were big for inner parts.
Should update design so 3 corners are same radius. No-one is likely to use this for grouting and care that 6mm and 8mm 45deg chamfers were intentional.
Consider heating in reflow oven to smooth PLA?