Hello Forum, I've started on my MPCNC Primo 18.5" x 24.5" build area.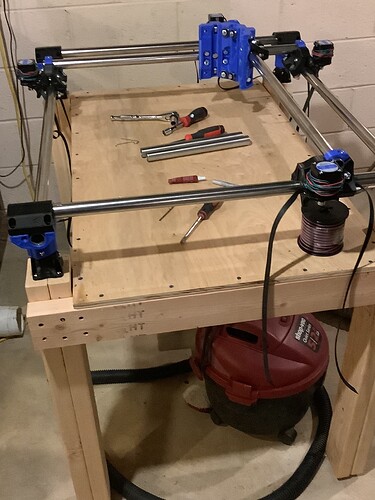 I decided to jump in with the Manta M8P board and Klipper, following Neil's progress V1 Engineering Forum - V1 Engineering Forums
I want to try rotary in the near future. First as a substitute axis and maybe later as a 4th axis, so the extra drivers were appealing. Also, it seems more "future proof" than a board that might be discontinued.
I'm no coder, but I have a little experience following a good design. I put a Raspberry pi based autopilot in my sailboat, and that went well.
I made the table so that it can be dropped, and I could pass long thick stock through in either direction. The MPCNC feet are screwed onto the exposed tops of the table legs.
I printed everything with a Creality CR-10 V2 which is unmodified, except I went with a 0.6 nozzle. I used Sunlu PLA, 4 layer perimeters all around, and 50% gyroid infill (70% for the core). The parts look good, and the quality of the design is impressive! bearings snap into place just like the instructions say!
I have the trucks rolling smooth and true, but I can't get rid of a little slop in the gantry/core bearings (~0.7mm). I'll look through the advice and then repost in "troubleshooting" section if I still have an issue.
It's a good start!
Mark