Do they still work for roller hockey?

Probably going to need bumpers along the length of your table. PLA won't be as sticky as urethane wheels.
If you're going to do that, might as well print one V groove set and run on a piece of metal angle at 45 degrees. Perfect tracking everytime.
I'm sure I've seen a model somewhere that had PLA center and TPU "tire".
I made these plastic wheels with TPU tires to wrap around them for that wind up toy car that used O-rings. I never go around to finish printing all the parts for this mod. The rear plastic wheels are 46mm OD, but could easily be changed to a larger size. This would probably be a good design to redo in fusion 360 to make it easier to change. This design is currently in openscad. I have been looking into making some sort of plotter for large sheets of paper & like the idea of some of the ones I have seen on openbuilds that roll on the flat surface. For what I want to use it for, it does not have to be real accurate. the problem I do have printing these tires is the seam between layers as you can see on a couple of the tires. I have seen a video where cura slicer can solve that problem by putting the layer seam inside, but have not tried that yet.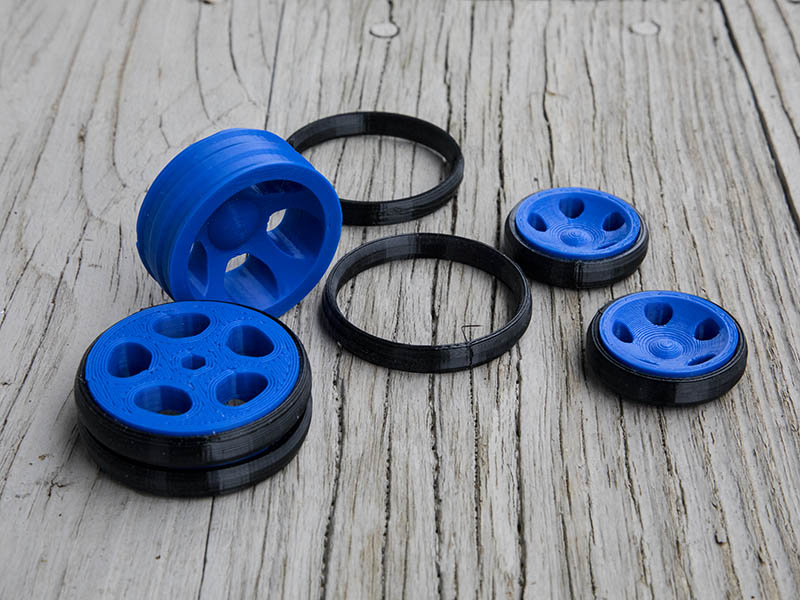 I have not used cura in a while but for that in my slicer I have random, nearest, fastest. Random is what that needs.
Looks pretty fun so far, I like the style.
Im using random everytime, and its very good. I print my last wheel just Now. And its for test only, offcourse i will buy real Wheels, but i must try this. Pictures tomorrow, and later when Lowrider gets
Dirty​:heart:
I will have to change that to random & see how well it works. I have tried that before, but not in quite a while. I will definitely try again. I am still using Slic3r Prusa Edition 1.41.3
I switch to Cura Now, using Simplify3D many years. Cura always takes 3x longer time to print with. Its strange , but its very good quality when its finished