So, I got one of those laser cut kits for Christmas. Basically a little wooden marble run with a hand-cranked lifter and a couple of marble paths down.
It was fun to build, and of course, I was thinking about maybe replicating it to make more with my laser. But maybe different.
That got me looking around Thingiverse, where I found Tulio's 3D printed Marble Machine #3 which looked like a nice candidate for the MP3DP Repeat. So I made it.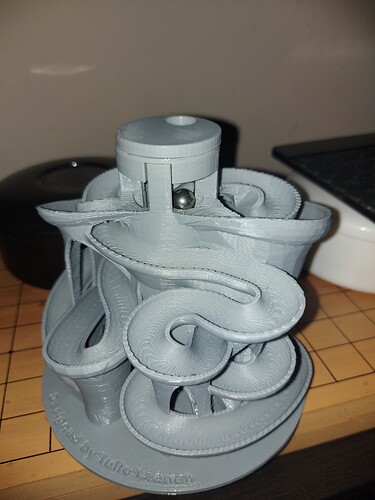 Bummer. It takes a different sized marble than the kit that I got. 3/8" (or 10mm) is what it calls for. On Amazon, I could get either a bag of 5(bearings) for $14, or 500 (slingshot ammo) for $17. I figured that the slingshot ammo was going to be more than accurate enough, and I wanted 8-10 to put in the thing anyway. Now I've got about 490 left in the bag…
Watched the little video on the Thingiverse file while it was printing, which led me down the YouTube rabbit hole, and eventually led to Out Of Marbles.
"Hey, modular marble runs! THERE's an idea…"
Not sure if I want to buy the .STL files for their stuff, and of course it takes a different sized marble again, but the idea was pretty cool.
So… A modular marble machine. What ense would I loike to see in that?
How about stackable? They have the bucket lift thing on Out of Marbles that can stack 3 or 5. They have the "two wheeler" which can manage 3 side by side. That's kind of cool, too.
Well, side by side is a bit much, but if I can print some parts, and mill others (Milled/printed, now where did I get THAT idea from?


) then I could maybe do something interesting.
Well, I wanted to learn some more CAD stuff anyway, why not start with gears? Many of these marble machines use a gear mechanism to lift the marbles to the top of the stage, then drop them out onto a ramp. The auger for the Marble Machine is a bit of an exception, but I could probably do something using that concept, too. It would require a power take-off from the geared lift… But I'm getting ahead of myself.
I've also got plenty of Ikea in my house. Enough for me to have designed a PC case to go into the shelving units, so I also happen to have the dimensions for that memorized. I kind of thought that I could make a modular system that fits in there, too. So that determined the max width/height for a single module, but I still wanted to be able to stack more than one. If I borrow from the general idea that Out Of Marbles uses, so that the runs can ingterchange with the entrances and exits in the same place, then I can stack them in between however I want. Motor power (Or ceiling height) becomes the limit for how far I can stack them.
Okay, CAD time. I'm not entirely happy with the one transfer piece, so I'm going to rethink it a bit. My CAD skills are still a bit on the weak side, I know. I am getting a feel for putting different pieces together though.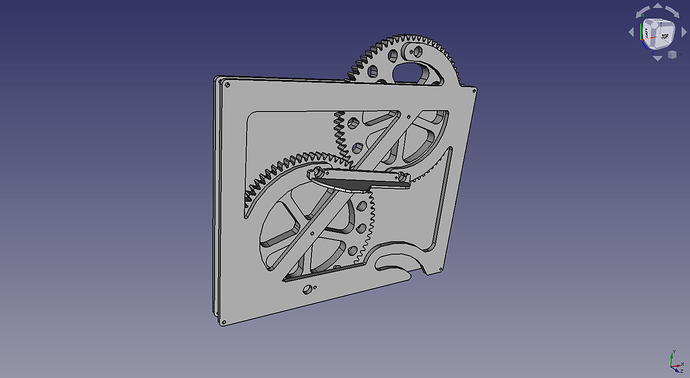 So the results here are something where I can mill the frams out of 1/4" plywood, possibly the gears themselves too, or print them. There are printed inserts into the gears to hold the marbles and tip them out at the top, and I''ve got a start on a piece to transfer them from one wheel to the other. Stacking the machines one atop the another will result in using a mirror image of that piece to move the marbles from one riser to the other, so you can just keep lifting marbles to the top. Then I need s piece to take a marble from the top exit to the start of a module, and one to take the marbles from the bottom of a module to the first feed. That will probably also incorporate some sort of motor mount to power the machine. I might also design a hand crank to come to the front of the machine. As it stands, this is meant to be at the very back of the framework. There should be a base with and without the power mechanism. Without the mechanism, it will direct the marble from the output at the top to the input at the bottom. With, will assume that the output goes into the lifter feed.
I was going to do this in Fusion360, but looks like I'm still working in FreeCAD.