I'm looking to minimise the 3d printed parts and MDF in my build, my garage is a nightmare and our seasons go from being quite damp to very dry, so I would like to avoid the use of too much MDF in the build.
The core, belt holders and endstops will remain 3d printed in PLA (1.2mm walls/tops/bottoms, 30-50% infill)
My intention is that the internal struts and bracing plate will be 2mm laser cut steel welded into place.
For the MDF pieces, XZ/XY plates I am considering making them in two 2mm sheets with spacers in between to provide the rigidity.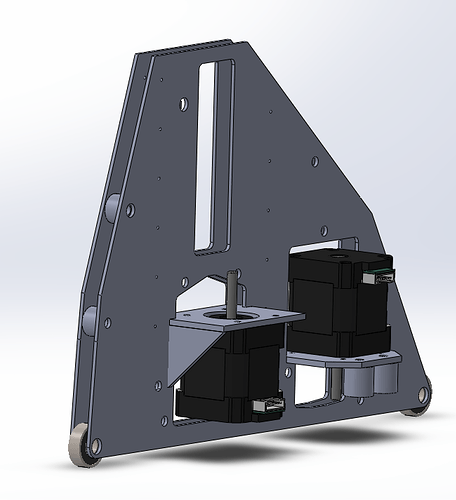 This is a quick mockup of what I'm intending…
It seems to be that the part in a sheet of 1/2" MDF would weight ~480g whereas 2x 2mm steel plates would be ~900g, if it goes up to 3mm (as I originally envisaged) that weight climbs to ~1.35kg
Doing some more estimates of weight, it could be that 1/2" acrylic or polycarbonate could be the better option… the weight would be ~450g and then perhaps I would move all the motor holders back to printed PLA.
I'm curious as to what people on here would suggest, my brother welds, so I feel like it definitely could be advantageous to use steel bracing on the gantry itself, but if I try an redesign the parts in steel are the nema17 motors going to be the bottleneck for this CNC opposed to rigidity/strength?
I apologise as this post is ending up to be me thinking out loud.
I've printed a few parts and they're all beautiful, I'm printing much slower and finer than I have before, but I think the extra filament and time are worth it.
Thank you Ryan for your design - and I feel a little guilty that I'm trying to mess with it!