Good luck everyone!
May the odds be ever in your favor!
I think I retweeted it lol. First time ever making a post on twitter/x lol
I see you on there!
This should be the best odds I would guess. I might do a actual cnc cut contest, that could be a little better odds. We'll see.
Hey now. You gotta wait till the 10th for that one!!! LOL
I'm still deciding if it's worth creating an account just to share one post…
Whoops, to clarify I am looking for you to retweet /repost this on Twitter / X. I will get a list there tonight of who has done it. This one is not a forums thing.
Ok. I 'think' I reposted it???
I clicked the 'repost' button on the original and it turned green. Does green mean I win?

Looks like it worked.
I hope my 1 post with 0 followers helps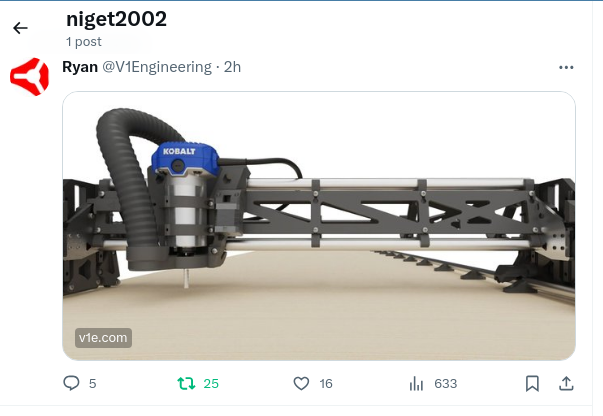 It helps the "algorithm" know that people are interested and can help it promote the content to more "maybe interested" people
You know…for people that actually use Twitter as a social network
I'm tempted to log in just to follow you, David.
Just make sure you post any boat building stuff here and not just on "x"
Oh. that reminds me… I have a new video to post with the fix to the stern…
If I win the router, I promise to install it on my MPCNC and use it to cut at least '1' part for the kayak with it