With the Primo, LR3 and Now MP3DP V4 done. Now its time to build a ZenXY.
Plan is to use it as a top to some amazon cubby's we have in our computer/3d printer room. I'm wanting the top to be 30" by 40" with the 40" being the side you stand at most. According to the calculator that puts me at a work area of…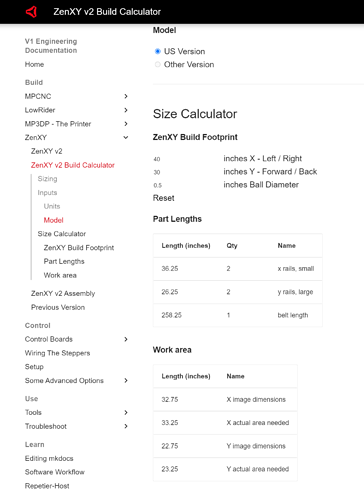 Should be a nice size.
I see the Bart Dring board as the suggested one but when I follow the link it says its no longer available?? is there an updated version i should be looking for? I looked though his store and didn't see anything else that looked the same but it was a quick look and I could have missed it.
If that board or newer equivalent isn't available…then what board is suggested? Everything i have now runs the SKR pro 1.2 But i cant get the headless part to work on any of mine so far. I'm sure its just something I'm not holding my mouth right with and honestly I haven't done a bit of research to try and fix it yet.
What else do i need to think about before I start ordering parts or printing anything? Hoping to get the V4 dialed in better in the next few days. I could start printing now on one of my other printers but that takes all the fun out of it. I already have all of the parts off the Docs list that Ryan sells in the cart. Just waiting to find out more about the board. If the SKR is the best option then I want to order it from Ryan as well.
That's everything i can think of right now. I'm sure like all my other build threads I'll end up asking a billion more questions lol. Thanks in advance for any assistance!!