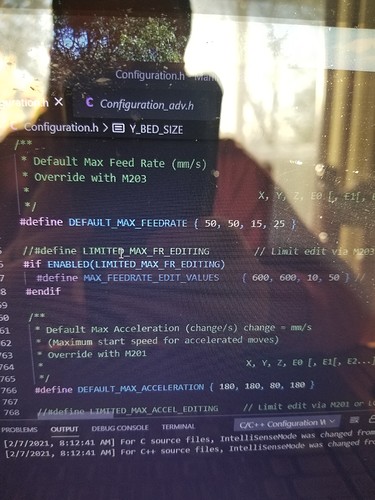 I run a mpcnc primo with skr1.2 pro and the tft screen. Lately I have been cutting mdf. The cuts are going good but it feels like the machine can handle higher speeds with the mdf.
I tried to go 60mm/s with the vbit as there was no resistance while.cutting.
I use estlcam and i set the feedrate but it did speed up the cut.
I'm not great st f8rmwwre at all. But I searched the site and the forums and located where it talks about feed rate in the firmwar.
In the picture is that where I can change the limits of the axis speeds.
I have also changed the rapid movements in estlcam howeverenut does not seem to speed it up anymore.
If changing these is not the way to go is there other ways to spend up the cavre. Especially vxarv8ngnin estlcam during the carve pocketing it takes for ever eith the little pecks.