Finally got my table together! It's not quite finished and still needs to be stained and some electrical bits tidied up, but everything seems to be working well for the most part now after fixing some issues (be sure to tighten your stepper pulley set screws!).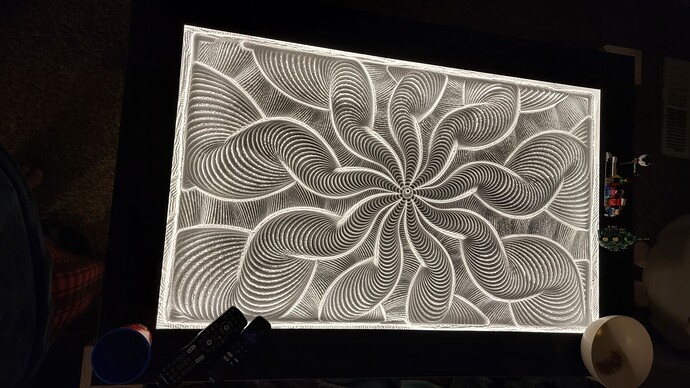 One thing I keep having trouble with is when patterns finish, FluidNC seems to throw an alarm for motor positioning, lose motor positioning, and stops detecting the SD card. After a quick reboot everything is fine again.
I'm curious if this might be caused by my lack of any end gcode in the files? With my 3D printer, I have code to turn off heaters, move the bed for part removal, turn off the motors, etc, but obviously most of this isn't needed with a 2D sand table so I'm not sure what could be causing the issue. Anybody have any advice?
Also, completely unrelated to the above issue, I am working on trying to automate playlist/table control using Home Assistant/NodeRed with the FluidNC/ESP3D interface. Thus far I've been able to get them communicating, have a few working buttons on my dashboard for homing, pause, & resume, and have managed to automate pulling a parsed array of pattern files from the SD card and placing them into a Home Assistant input_select dropdown list. Still need to work on the actual outbound commands to start the patterns, but I'm nearly there. Full disclosure, I'm far from a programmer and it could probably be done more efficiently, but I can give some updates/brief walkthrough in a future thread when I get it working if anyone is interested.