Any WLED experts in here?
I am using the web installer (install.wled.me) to flash WLED onto my ESP8266 as described in this video.
When I plug in my ESP8266 it is recognized in the COM ports and I can select it in the list of devices from the web installer.
I select my device, which is COM6 (CP2102 USB to UART Bridge Controller) and select connect.
Then I get this message…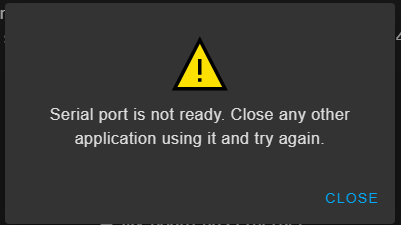 Has anyone had experience with this issue? I have spent hours researching this and cannot find a clear cut answer. I have not been able to figure out why it is saying the COM Port is being used by another application.