I've been using the probe function of Grblgru and Estlcam quite a bit in the last several months. I thought I'd post a picture of what little you can get away with to get this done. Of course you can invest in some pretty expensive probes but it isn't necessary. Additionally, when you crash one of these it is not that big a deal. Total investment about 25 cents, seriously.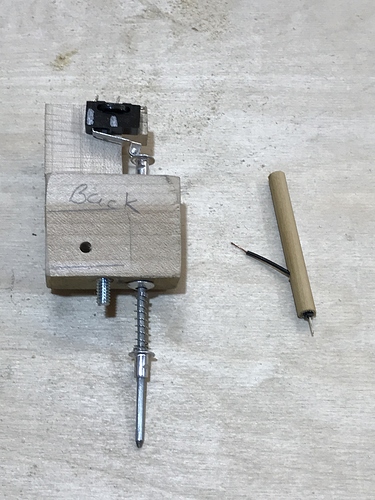 The more complicated one on the left I made months ago and it is still working fine despite many crashes lol. A bit of wood, wire, rivet heads and a pen spring slide up to close a NO switch wired to my control board pin and Gnd.
The simpler one on the right I made recently to probe down to 0.25mm spacing. Combined with a strip of aluminum tape on the surface I was scanning it looked like a little sewing machine. It is simply a 1/4" dowel drilled in the end with a 3.5mm bit and a 2 mm hole drilled to where I needed to get the wire out. The 'probe' part is a Dupont style connector for use with breadboards. One alligator clip to this wire and the other to the aluminum tape run back to the control board pin and gdn. The key with this one is a very slow probe seek rate to give the firmware a chance to register the contact or else the pin will be bent.