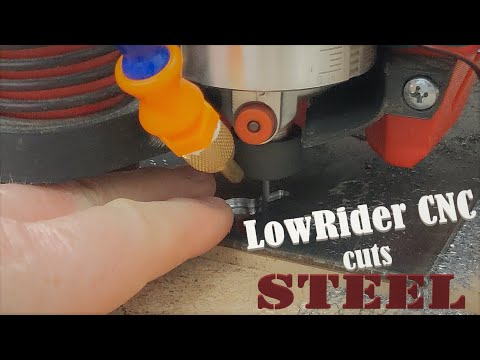 Did a few test cuts today in mild steel. Although not perfect this is a good cut and with a few minor adjustments I think this can be a decent recipe to do it again.
The Makita 700 series router was at a speed of about 1.25
Using this endmill
The other endmill I sell is better for Aluminum but this is best for steel.
Air assist to keep the cut clear of chips
https://amzn.to/3MQwF9M
00:00 - The finished cut closeup
00:17 - Initial plunge, should have ground off mill scale
00:54 - 1.2mm DOC, 5.5mm/s, 3% step over
08:30 - Cleanup walls
08:54 - Second plunge
09:35 - side milling
13:02 - Pushing a tiny burr, needs slower rpm or faster feed rate
17:10 - cleanup walls-hear how uneven it is means less than ideal cut.
17:33- more pictures
For the next time I would decrease plunge angle a half a degree and speed up plunge feed rate. Grinding off the hard mill scale would help the initial plunge. I also had a better cut with a 1mm step down and a bit faster feed rate, that also allows for a bit slower on the router RPM. No pushing burrs.
When you are in the ballpark there are a few key things you can pay attention too.
Broken- Too big or too small of a bite and you break an end mill for different reasons.
Burr- Making any sort of burr means you are pushing material instead of cutting it=you need a bigger bite. That means slower RPM or faster feedrate.
Chatter- means you need a bit more router speed or slow down the feedrate.
Heat- The steel should not get hot, hot means you are rubbing and not taking a big enough chip to disipate the heat.
If you are going to try this yourself. Use the same numbers with a 0.2mm DOC, work your way up. Always use trochoidal, slotting is not easy. If you do not need to plunge through the material and can start in a predrilled hole or off to the side, much deeper cut can be had and at that point adjust the feedrate.
There is a minimum step over and minimum DOC, I am thinking 2% and 0.2mm are pretty close to the lower limit.
Last Steel video from 4 years ago, Steel, yes, Steel! Mostly Printed CNC -MPCNC - - YouTube