Hi, I'm Luca. I just registered to the forum but I've been following since I printed my mpcnc almost 2 years ago now. By following v1 on instagram I got to know the zenXY project and I got in love with sand tables. Now I've built one (not really a zenxy but I got inspiration from it) and I've been sniffing around a little bit now. I got to know sandify through the forum and I'm using it a lot for my table. The thing I was missing was a software to manage the table on the long term. Of course mine is not that original as an idea but I have been looking for a while for a good project to start programming again after some time.
So for the last two months or so, I've been working on this program (running on Windows and raspberry at the moment) that (in my unrealistic dreams) could become the "Octoprint clone" for sand tables.
Octoprint is good if you want to print one file at a time, but starting a drawing for a sandtable everytime can be boring.
The idea of my project is to create something that can feed the table periodically or even continuously. You prepare the drawings, load them to the software and choose how they should be done or when they should be done.
This as a first step: if the project gain some interest in may be possible to create something like a social network (read as "thingiverse" maybe) on which it's possible to share the drawings or drawings playlists to which the table can connect and download a fresh drawing (lot of ideas here: something like topic playlists, most voted drawings, "discover weekly" (of course from spotify) or even more)
After all these words: I would like this project to become a community project. I don't have enough time (and for sure knowledge, I'm not a professional programmer) to bring it along on my own.
The project is built on flask (python, html, css, js) because I think a web app for this will be more flexible (in order to connect to the table from a computer or a smartphone without the need of dedicated apps). Unfortunately my knowledge on web programming is quite basic (but for sure improving) so for sure some front-end expert could be a game changer here.
At the moment the project is more like a demo than a real software but I can give you the github link and a picture.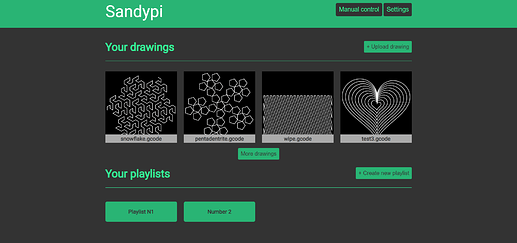 Please, let me know what you think about this.