Any suggestions/advice? Hoping this is something others have seen and fixed before? And/or writing this out will nudge my brain towards a fix.
Started noticing adjacent walls not bonding. Vertical layer adhesion ok. (Overture Transparent PETG). Still have my first MP3DP prints from several months ago, they were fine and don't think settings have changed, but I could be wrong of course… [23-08-05 Edit: Foreshadowing… ]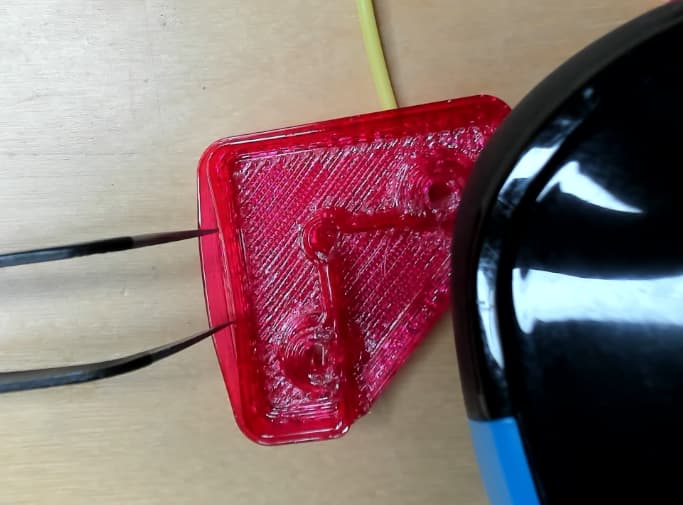 Other than walls not sticking/bonding/adhering, am otherwise happy with the print. If the material was a great thermal conductor I could probably make some great heatsinks.
Setup:
Ender 3 Max, mostly stock, including stock bowden hotend.
Dual gear extruder.
Cura 5.4.0
0.6 nozzle, 0.32mm layer height
Observed:
Prime line doesn't seem as smooth (blobs), or have as much material volume as a few months ago. Maybe under-extruding is an issue.
Tried :
Searching the web, youtube, etc… Guess I need to try harder.
Ensured extruder gears are clean.
Several Cold pulls, PITA with bowden, PTFE to hotend isn't easy to access, have to remove fan guard/mount.
Cleaned nozzle with brass brush and damp cloth while hot.
Poking hot nozzle with those needle cleaners.
Same result at 250C, and 255C. Usually print at 245C without issue, historically picked 245 based on Temperature Tower results.
Double checked manually leveled glass bed using via the slide paper test.
Flow was set to 95% based on calibration cube results. Have temporarily increased all the Flows to 120% until this is resolved.
Used filament dryer for 6hrs+ per day for several days, lives in a dry closet.
Tried Skin Overlap seemed promising, but trying different values didn't seem to make visible difference in slicer preview (tried default 0.08 to 0.6mm).
Not yet tried :
Different PETG filament. IIRC Black Overture PETG prints easier, at lower temp too.
Dig around for .3MF in my notes repo from several months ago, diff those settings against my current ones.
Double check extrusion rate, per Teaching Tech, i.e. mark and extrude 100mm
Lower layer height to help better squish horizontally, e.g. 0.24mm instead of 0.32mm.
Workaround via design changes to model, e.g. Make inside walls ripple causing varying wall thickness between layers that'll interlock and bond stronger.
Currently trying:
Writing this out has reminded me to try 0% Fan, was 25%, except for initial 3 layers which are always 0% Fan.
Cheers!