Assembled in Feb, but don't have time to use it and need the garage space. Located in St. Paul MN.
I'm looking for $450 to recover my cost on it. Wires are soldered to length and system worked before disassembly. Will ship within continental US.
The system was printed in Red and Silver Amazon basics PLA. Cable chain is gray Amazon basics PLA with random parts in blue, green and orange PETG such as cable chain mounts and span supports.
Let me know if you have questions or interest.
Pictures: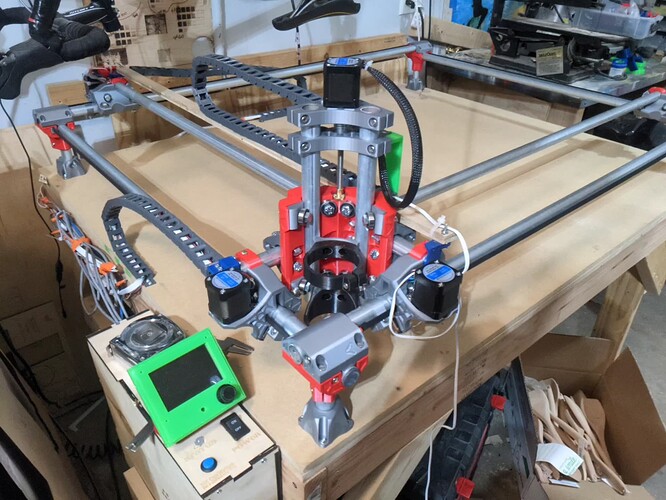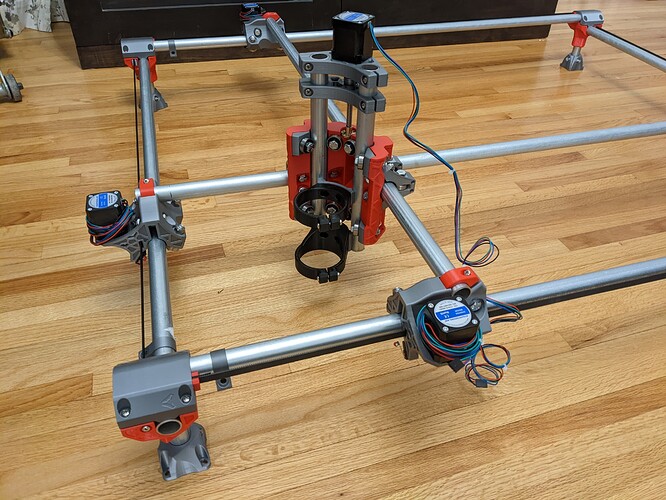 Includes:
BTT SKR 1.2 pro loaded with marlin and dual endstop with fan and cooling duct for TMC 2209 drivers
Controller box with HP server power supply with skr mounted and RJ45 cable connections
5 motors, dual endstops
printed cable chains (gray and 3 sections: front left, for Y motors; rear, for x motors and core; and core, for the z axis motor)
bolts and nylock nuts included
EMT for 30" x 40" cut area. This should be cut down to 24x24 or maybe 30x30, but it is larger than recommended and I never used more than 2' square anyway. I'll cut EMT to the size you want and include the printed end caps
Conduit mid-section supports
conduit end plugs, conduit no-snag rings for wires in conduits, conduit mounts for cable chain supports
-cable chain mounts
core mounts for Makita R701 palm router
Concerns:
z axis zero never used or tested
NOT included:
router
table
raspberry pi 3B+
touch screen
support for cable chain to z axis on the core. The chain is included, but the span piece is not. The mounts for the span to the truck conduit are included.
table mounting screws for system base
cable chain mount screws for table