The 2D Contour operation finally completed, but it left 1.35mm of the stock, not cutting all the way through. My friend Kim told me to check to make sure the router bit extended past the X-axis platform, which it does as shown below. It is 1-1/4"+ past. This was to rule out the platform preventing cutting to the full depth.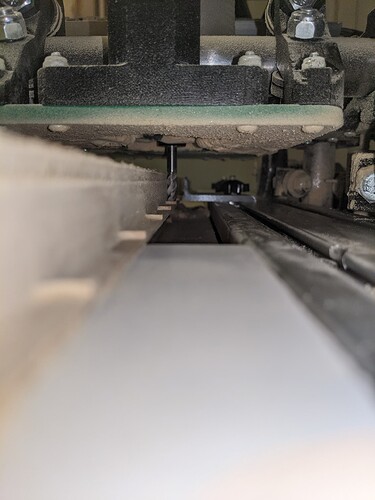 I just looked at the gcode and it appears that the Z is never set to 0 (bottom of stock). The lowest it goes is 0.575. So that is 40% of the missing cut. I looked at my Fusion 360 model and it is 19.05mm or 3/4" as that is what the MDF is. Since I specified the bottom of the material to cut away, it isn't clear why the operation did not clear all the way to Z0. Thoughts? I could very well have incorrectly configured the CAM operation. That still leaves 0.775mm.
I have the touch plate (from the v1engineering store) installed and configured. The Rambo 1.4a has the Marlin DualLR firmware installed. The X and Y positions have been set to the origin of the stock and G92 was used to set them to 0. In the event, I am using it incorrectly, here is how I use the touch plate.
The Z-axis is raised to 60mm.
Using needle nose pliers, the clamp is attached to the bit.
The Z-axis is lowered to 5mm from the stock.
The plate is slid under the bit and pressed tightly against the stock.
The "G38.2 Z0" is sent to the Rambo. The Z-axis lowers and stops at the touch plate. It does not raise on its own.
"G92 Z19.55" is sent to the Rambo. This is the thickness of the MDF (19.05mm) + the thickness of the touch plate (0.5mm).
The Z-axis is then raised to 60mm and using the needle nose, the clamp is removed.
The gcode file is then queued and execution is started using the Repetier-Server. Anything look wrong with that? What else could cause the CNC not to cut all the way through? Thank you