Finished my build a few weeks ago and have played around with it some. About 3 feet by 3 feet, 4.5 inches in workable z height. Steel 1" OD x .045" wall mechanical tubes. SKR v1.3, dual endstops (not configured), and 84oz in Nema 17 motors. Modified the skr and tft case to mount to the side of my table, and added modifed cable chain mounts to fit my chains.
Here are some pics of the build / some coasters I cut out. Just drew a box w/ circles in solidworks and overlaid the skiers on it in estlcam. I also used the CNC to route out the slots for T-Tracks to be inlaid into the wasteboard, but it looks like I'll have to lower some of them as I ran the bit into one when trying to cut out a coaster.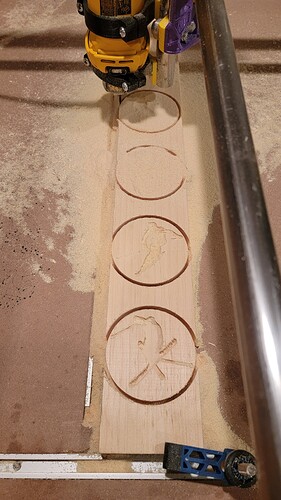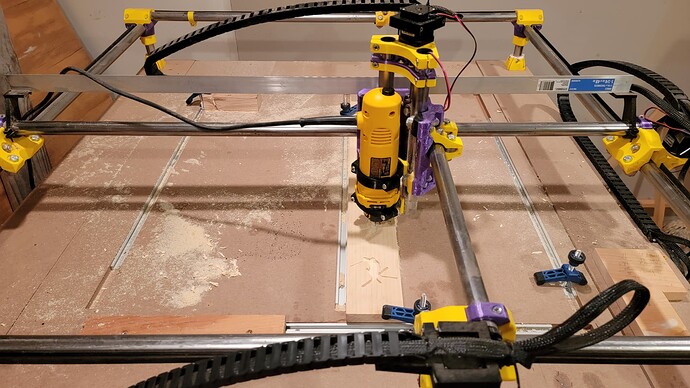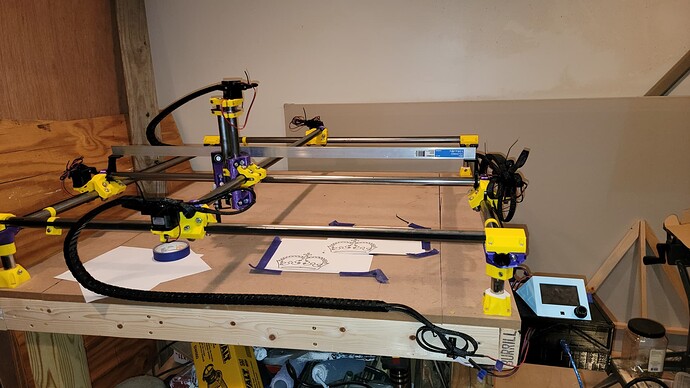 Some questions I have:
How do I enable the dual endstops / what benefits does it provide? When I try to home my machine in the menu it doesn't move. So far I have just been using the endstops to square the router between jobs if I think I knocked something. My workflow has in general been
a) Create .dxf with a virtual copy of my work material, with origin in the bottom left
b) Manually jog the machine until the bit is centered on the bottom left corner of the material, and just barely touching the surface
c) Restart the cnc to make that the new origin, and cut
Then, if I want to do a bit change, I turn off the router, raise Z, change the bit, manually jog the machine back to x,y = 0, get the bit so it's just barely touching the surface of the material again, restart the machine, and cut. Is there a better way to do this?

I am interested in cutting out guitars. I have a slab of ~17" x 17" x 1.75" Ash that I want to cut into a telecaster shape, mostly because it should be 2D cutting and that seems simpler. What are my options for cutting out the entire body contour around the edges (1.75" thick)? Is there a bit that can do it or should I be looking into a router upgrade?

How should I get started trying to mill aluminum? Just buy a sheet of alu or a block? I bought these bit sets Genmitsu RR20A, 0.118"(3mm) Shank, Rotary Burrs, 20Pcs Bit Set | SainSmart – SainSmart.com, Genmitsu 1/8" Shank 10-PCS Titanium Coat HSS Rotary Burr Router Bit Se – SainSmart.com, Genmitsu MC40A, 1/8" Shank, CNC Cutter Milling Carving Bit Set, 40-PCS | SainSmart – SainSmart.com (and already broke the 0.8mm titanium bit), but the product pages aren't very clear on what each bit is for or how deep they can cut.

Has anybody had success running a laser on the machine? I'd be interested in something that can engrave slate / wood / metal and can cut out ~.5" or more of plywood or similar material.