I didn't know about the videos section-
Where is it?
Thanks
lol, been regularly visiting V1E since May and didn't know there was a video section.
When looking at the page just now I also mistakenly thought there was just 3 videos.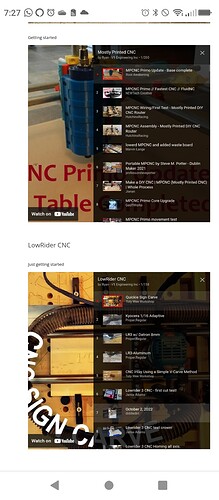 However, the page actually has playlists embedded that links to hundreds of videos. This is way way too subtle. I doubt most people realize there's effectively ~558 videos available to view from that page.
Consider a more obvious intentionally curated, carousel experience, auto play on load, etc…
Sneaky!
Mine must just be the last one added, coincidentally

I'd almost prefer seeing the playlist as the main section.
Anyway…this is maybe sidetracking the thread
Well Jeff,
I have a lot of printing/graphic arts/graphic design skills, 28 years in printing as a working Production Supervisor, covering when anyone was out. So booklet/literature/technical on that I'd be willing to help.
To help with costs/convenience on shipping…been shipping with the major carriers, LTL freight, etc for years. I ship 26-30 pound packages, usually around $60USD in the USA, $100USD Canada, Europe/Asia about $150USD, all insured and tracked.
On standardized all-in-one-box builds the trick, as Ryan knows when doing the boards, more is actually cheaper per unit, its all about knowing how to do RFQ's and having suppliers that will give cost breaks. An example I'll use is Hardwood Lumber…I have 4 sawmills/domestic lumber/exotic lumber suppliers I work with, with that said, when I need lumber, I call and say "I am coming to get 100-200 board feet of lumber, I need it planed to X, and straight lined, what kind of price a board foot can you give me". Building the relationship with those suppliers for 20+ years, I can usually get lumber for prices that would shock most people here, in the $2-$3 a bd/ft range, any specie. Hardware is a similar thisng, as I use 3 suppliers who give me breaks as well. The hardware for the second machine cost me 2/3 less then buying from V1, "sorry Ryan", and DOM tube here is remarkably cheap, $5-$7 a foot cut to specified length. I buy the bearing from a wholesaler at $3, for a tube of 8.
Been sourcing and buying as part of my job for years so I smell out deals
I went there earlier and saw 3 videos
Definitely needs improvement and to put them high visibility.
Some great videos in there!
There is a plug in I could not figure out for the docs so you could more easily print what you wanted. I will look into it. Free is better than paid. I can not include them in my orders they would take up too much room in box. Full kits absolutely fill the box. If I get the plug in working perhaps I can fit s print and send service so it is out of my hands, but still available for those that do not want to print it themselves.
Leaderboards are fine, contests are where I know there are issues. I can dig into it more again.
This could easily be a linked video. That way it stays more up to date. Most programs change pretty fast.
Not only do I not have a printed manual, Most of the instructions are incomplete. It takes so much time to do I do not do it until something gets asked several times. so either the majority understand how to finish, or maybe don't start because there are not complete instructions. I am not all that excited to rewrite how to stuff for other people's programs, I would much rather find some good videos I think show it well, perhaps a written set of instructions and link them here and use my time on the hardware.
Trying hard, the world is a big place. I think that is my main focus after reading all this. I do not have an advertising budget to compete with any of the rest. So I am going to rely on performance and reputation to get us over the hump for anyone that looks further into home CNC.
Have you found the assembly to be a big hurdle? The reason I ask it fully assembled or not you will need to know how to tension a belt and maintain and square any machine you buy. Industrial machine require you to buy a maintenance contract. I am not really thinking the rollers or core is all that bad. Or another way to put it, is if I sell them at a bit over 2x the current price mostly assembled, would you still consider it?
As for wire lengths, I rely on economies of scale. I buy the wires 1-3 thousand at a time. I don't have the capital for several lengths. Folding over the wires and allowing for control board mounting options with different placements is about as good as I can do until they come out with a clamp on termination.
Yes, linked on the donate page. Everyone has their preferred donation methods so I have several to choose from. The best thing you can do for me is spread the word about us in any way possible, if you are not on social media, a positive google review really helps and is worth a lot of money to me.
PS, new site is coming trying to make the whole experience more cohesive so those links should be easier to find.
This is very difficult. We already support a ton of boards. With that pile of boards it is usually a minor firmware edit to get any other board to work. I don't think any other company supports more than one board. Every update marlin does, could break any of the 37 differnet configurations that are currently supported. So now if I want to do an update there is no way for me to actually test all of them in a reasonable amount of time. So we just push teh update and wait for issues to be reported beyond the 3 setups I run here.
HAHAAHA we love you eve if you run the old fashioned LR2…such a good antique. Don't make em like they used to…wait, wait…the LR3 is clearly better.
I used to work at a 3D printer company and I watched this all day. I never want to do that to someone. "hey open this box and 3D print parts to fix things around your house and toys your kids will enjoy", only to see them not understand a first layer. I am not going to lie to a newbie and say it is simple. It just isn't. Everyone gets hung up on a different aspect of CNCing. So I think here we weed out the people that are discouraged by a few nuts and bolts, and focus on the "using it" side. So it we say you have a loose grub screw on your pulley that is all we need to say and they fix it. These machines need to be maintained, and squared up even if they came fully assembled. Big mills get delivered and installed by a service tech, precision requires a bit of adjustment.
That is a wonderfull idea, and I am making a note. Something before the milling basics page, with a broad overview of the whole process. could be a video as well.
Each of those is a playlist 200 videos long. I update it everytime I hit youtube. new video pushes out the oldest video.
I will look into this. I like it a lot.
I have no issues with that. The internet has provided us all with the resources to self source and save some money. My kits only offer the advantage for known quality parts and time savings of not self sourcing. 7 years ago I would have self sourced and made everything. These days I pay for some things so I can go spend bit more time on the water. So I fully understand and never hold that against anyone (hence no paid or privileged forums for customers).
Oddly enough I would bet some things are more expensive for me. buying one thing from China and in the US you do not get taxed and they typically ship epacket for free. As soon as you buy 1000-10000 you have 28%+ import tax plus shipping.
I could have the kits premade in China and shipped worldwide. That is an option I have been holding back on but I could do. Maybe it is time to start looking into that. Instead of trying to get regional suppliers, that I hoped would help in supporting in their native language. If I get them premade I could use direct shipping or distributors so I can focus more on all this other stuff.
Shoot, might be the right step.
Modified may have been the wrong terminology… Expertly reared? Specialist raised? Heirloom grade?
Watching New Yankee Workshop is fun and all, and Norm usually sticks to fairly basic tools that most guys will have in a reasonably well appointed workshop. But, you know he has a production team that preps and tunes his big Grizzly cabinet saw. It's not a Craftsman contractor saw on foldable legs. So even if he does his own once over on the machines, he's just flipping the switch on a completely different class of machine than most of his viewers will ever use. Even if they got the same model. That's the sort of thing I'm talking about. We have some seriously detail-oriented machinist types around here who can, and will, keep their machine dialed in to more zeroes than my bank balance before payday. But how much time are they spending on tuning and truing vs making chips? Maybe I'm the one with the misconceptions, and need to be educated. I'll tell you this much: I don't really use my 3D printer any more because it seemed like I needed to do what seemed like an hours worth of tuning before I could use it for a print or two. Even then, it was debatable if I had actually gotten to a well-tuned place, or just barely into "non-catastrophic failure" space. And wasting that much filament and time for barely acceptable print quality (i.e., not birds nests) is just… Ugh. I've got Netflix to sift through, Instagram to doom scroll, and various piles of clutter to stare down in defiance…
I think that is why my speeds and cuts don't really count. With that said. I am very average. I get things close enough and happy with a good cut. I had never ever pushed my machines in 5 years. When I did I was pleasantly surprised at what I found. There are a ton of people cutting faster than me. I think I am fairly slow on the scale actually.
I have a few ideas I wanted to contribute to this topic, but I cannot seem to get the time to wrap them all up, so I tackle one now, and maybe the other will follow later.
The V1 machines live in an interesting space between homebuilt and a kit build. Constructing one using the V1 kit has elements of both. When I built my Burly, I was concerned about having a large paperweight, but I was pleasantly surprised by the build process. In a single weekend of light work, using only hand tools, I went from a pile of parts to a completed mechanical build…and, the process was only slightly harder than an Ikea furniture build (I had to read, not just look at pictures).
But at that point the process stopped since I had to work out how to protect the wires, how to run the wires, find a case for the electronics, deal with jumper wires, etc. I remember agonizing about what size cable chain to purchase, having to wait for an Amazon order, designing and 3D printing brackets for the chain, finding hardware for attachment, etc.
I think there is value in taking the final steps to provide a full kit-built experience to your customers. This has also been stated, at least indirectly, by some of the posts above. In particular, if someone pulls together the following:
Wood for the base board and spoil board
Tubing
3D printed parts
A V1 Kit (including electronics)
…they should be able to follow a sequential set of instructions and assemble the machine to point of doing a crown test with only hand tools, and without any added materials.
From a hardware standpoint, there is only a small amount missing to make this possible.
Sleeving or cable chain solution with associated hardware and parts. I vote cable chain since every machine is a potential advertisement for your products, and cable chain make the build feel more substantial.
I consider endstops standard at this point, so I should get limit switches and extension wires with both supported boards (and preferably attachable without soldering).
Screws to attach the feet to the base boards.
A solution for connecting power to the boards. It could be as simple as a couple of 'Y' connections using solid copper for the conductor and ferrules on the end.
V1 designed solutions for housings for the supported displays and the control boards.
There is also a pragmatic element to taking this step. The builder is going to need to purchase cable chains, so providing them as part of the kit means V1 makes the profit.
OMG, I swear I was just coming to ask your opinion Robert. Like literally typing a message to tag you in!! odd. Sorry let me read what you wrote.
Loud and clear, this needs to be addressed. The LR3 is one step better but still not complete.
I hear you, and you are 100% right. Something to cover the wires and all the needed wires and switches. (I am half way there. I have end stop wires but can not get the ends crimped yet I have been trying to get a board picked to standardize the connectors).
The baseboard and tubes would require a significant shipping cost. EMT is available anywhere wood is and is a couple of dollars. Shipping it would require a standard size, and a lot of shipping. Making it available in the US is a possibility, if someone wants to pay though. Anything larger than a large USPS flat rate box requires live shipping prices and custom packaging. If it ships UPS or FEDex I have to pay for pickup and live shipping rates. Half of the trick to this is flat rate shipping.
Exactly this! Im in the same position (even the same YT-clips) Just got my last parts and will start to build when I got time. Dont underestimate "influencers" (organic, paid or your own influence). Why do people buy a CNC? Create/buy content on those reasons and lead them here.
(Ps, I couldnt even find a good clip on YT to show a friend what I was gonna build)
There are thousands of videos. There are even some from me. I have them all linked here. If you were looking here and YouTube what were you looking for so I can try to make it a bit easier for others to find.
Also, a quick reality check: We're all armchair quarterbacking here. You're the one who has to put food on the table and keep the lights on, so at the end of the day, make sure you do what you think is best. It's good to stretch yourself, and get outside your comfort zone, but don't let us talk you out onto a ledge that you really shouldn't be on…
I have seen through here a complete kit. What about a smaller, like a 3018, cnc that would be easier to ship? Less upgradable, but an entry point?
Biggest flat rate box is 12"x12" not big enough for a small kit. Shoot that and most people build them bigger than suggested. I think almost ever cnc order leaves here with extra belt.
Myself i was just talking for those who do not want to diy. Also what about stocking at amazon/etc? Then they can ship
Just build in some tolerances in something like this. A few extra screws, and a healthy way to ship replacement parts. Healthy as in, both customer and you can be happyish with the fix. You have so much control in your garage that you can be assured that any mistakes were your fault. When you ship from China, their mistakes are your mistakes.
If it made sense you could also have them shipped to you and you could take a peek and then ship them to the US. That would give you a chance to do some QC (in the US anyway) and still have them shipped in a few days.