So occasionally, I'd want to be able to clean up around my MPCNC with my vacuum, but the hoses were attached with hose clamps, and frankly, I'm lazy. So things would stay dirty until I dragged the shop vac out closer to the CNC.
Then someone posted a pic of a magnetic connector that they were complaining about the cost, and how it was "too strong". So I drew this up. And then printed one side to fit my dust collector hose, and another side to fit my home-made Z-height independent dust system.
Here's the result. For a first go-round, it works pretty well with 3 magnets. I can disengage it without too much trouble, but it's stuck together well enough that I'm not worried about a disconnect. I used 1/2" rare earth magnets, about 3mm thick. I figure I'll print a few more adapters for different tools in my shop, so I can easily connect things together, and maybe another re-sized version for my 1.25" hose tools, like my router and ROS sander.
It IS modelled after a commercial connector, but designed entirely from scratch by me, and with a reduced number of magnets. The STEP file was included if someone wants to design pieces of their own.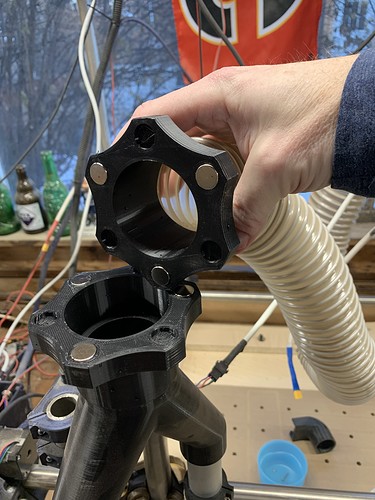 Clint