Build: Purchased SKR Pro 1.2 and TFT through V1 Engineering; updated TFT firmware with latest build
I am able to home the Y and Z axes reliably. However, the X axis fails to home every time. Manually pressing the switch causes the X axis LED to turn on, so that's working. Strangely when I executed the squareness marks gcode, the X axis drove to the correct limit I set in the script generator, pauses, then drives the X-axis into the Z-plate, grinding until I hit reset.
I moved the carriage manually to just before the X-axis endstop would engage. Then, I hit HOME → X using the touch screen controls. Invariably, the carriage moves away from the endstop. It even does the short back and forth as though it found the end stop. Repeating the HOME → X will move it even farther away from the physical endstop switch. Some exact behavior with the Repetier host.
Note that the X-axis moves in the correct direction using the touch screen or Repetier host. It also functioned enough to print the crown pattern.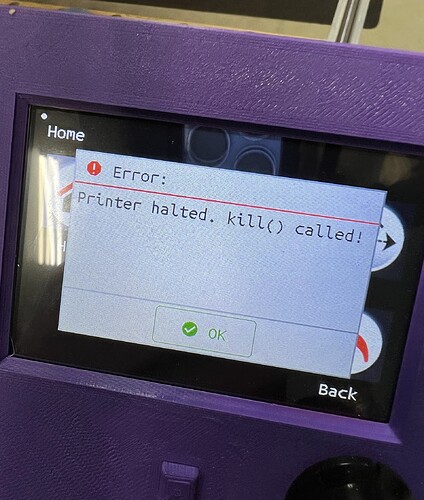 If I try to drive the X-axis with the touch screen controls or the Repetier host, after a few 1mm movements, I get the error: Printer Halted. kill () called! (see picture).
I've checked the endstop wiring with a voltmeter and there's continuity. The LED associated with the endstop can be turned on and off by pressing the microswitch (turns on when switch is depressed).
I'm really at a loss here trying to figure out what's wrong. Could it be a problem with the stepper motor or the SKR Pro board?