So guys I just wanted to share an update on my build. A while back I posted some photos and info during the build process. Then a lot of personal stuff happened involving loosing my Mom and Grandmother. After working though that, I found the time to complete the build. Honestly working in the shop helps to keep my mind occupied and off the bad stuff. I asked my wife, "would you rather me be in a bar drinking or in the garage." she obviously chose the garage…hahaha.
I'm excited to share with you guys and hopefully inspire some others in the process. There are things about my build I really love and things I'd like to change. Eventually I'd like to tackle a larger more expensive CNC build. I can hopefully make some money building from the MPCNC to pay for my hobby. A hobby that pays for itself…hmmmm every hobbyists dream…lol.
I got the hinges, pendant, knobs, fan shroud, TFT case, SKR Pro case and clamps all from thingiverse. The pendant is from the The Ornery Maker I can share more links if anyone is interested. The router mount is a makita mount that I modified in tinkercad to make one big mount. I made that plexi cover for the SKR Pro control board, but ended up just taking it off once I added the 120mm fan to the cabinet door. Gave me much better airflow and the heatsinks felt cooler to the touch.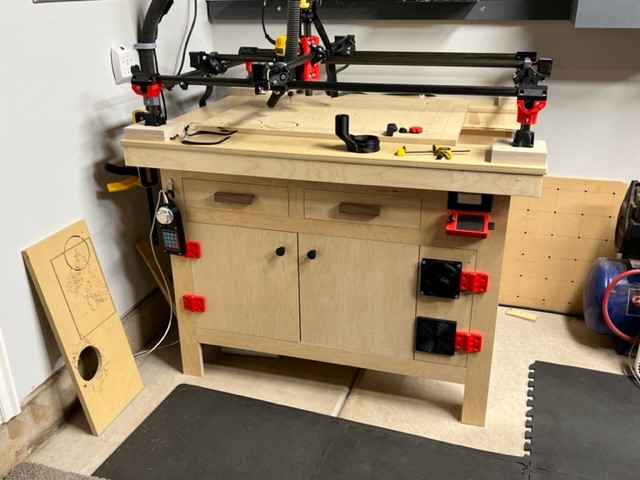 Full Machine Picture

Control Panel
Inside Control Panel
Dust shoe and router
With brush
Dust collection