I am a bit confused by the WebUI in Fluid NC and there is almost zero documentation that I can find. I use it and it works, but there I few things that I just don't get. Here is the tablet interface: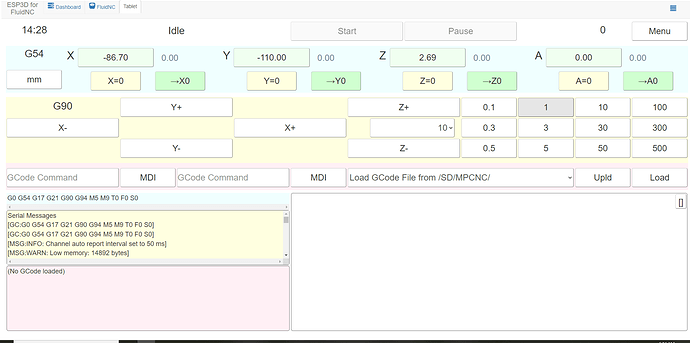 At the top there is a G54 label. I understand that G54 is a work offset, but I don't understand what it means in this context. I tried entering a value by clicking the X button and it moved very quickly to somewhere I did not expect, and I have not tried it since. I thought it would allow me to enter a specific coordinate and go there, which would be useful, but it did not do what I thought it would and now I am a bit gun shy. I am also not sure where you set the rapid speed for this function.
Below this section there is a G90 label. This is for absolute positioning. But it is above the jogging buttons, which in my mind are relative positioning. Am I missing something?
Below that there are two MDI buttons with GCODE command text boxes. I had to look up MDI: Manual Data Input. OK, I get it, but why are there two?
Lastly, is there a way to home individual axis in the tablet screen aside from entering the GCODE command? I have been homing from the Dashboard screen and then going to the tablet screen to jog into place before starting a job. I see in the menu there is a "Homing" command, but when I tried that, my z axis went straight up.
I am hoping to get some more information so I don't have to have my hand on the kill switch every time I try something new in the GUI.