Not sure if I should start a new post since I'm building the same thing? But my other post kinda got off topic, and I sold those cabinets. SO. Here we are again, 5am on a Saturday morning… Been here since 3am working on some odds and ends, and checked my stock… Guess what? I have everything I need to go ahead and cut out the Dragon's Lair. 2x MDF 3/4"… Check! 1x 3/4 Cabinet Grade Plywood… Check! Ryan's Amazing CNC Machine… Check! Time… Check (ish)!
I didn't document as much as I wanted on my previous thread, because that happened right about the same time as the pandemic happened, and I got off track so badly. This thread will serve to update as I build my own personal machine(s). Things I've learned along the way, things I've done differently, etc. All of that will be here!
So with that being said, let me tell you what I've learned… Just tonight alone… So, After quite a few successful cuts under my belt over the past 2.5 years, (and yes KCummins a crown too lol). So I didn't wanna really admit this because I used to think I had a perfectly flat table, without having to surface the spoilboard. So I noticed in my past 2 cabinet builds, the pockets were shallow(er) on the right side than the left. I take ALOT of time, (maybe too much time) leveling the gantry (x axis on my machine) and I couldn't figure it out, why it kept happening. Turns out, I wasn't leveling it to the material, I was levelling it to the rails it rides on. As I realized tonight, and course corrected before I got started, my pockets are all the same depth now. So I'm guessing my rails are outta whack, or the stock is bowed. Who knows. Good to catch these things, I learn so much more every time I fire it up.
So this is getting long and I know y'all are expecting pictures. Here's a couple. The machine is still running. It just finished all the pockets, and now it's working on the profile cutout of the first side.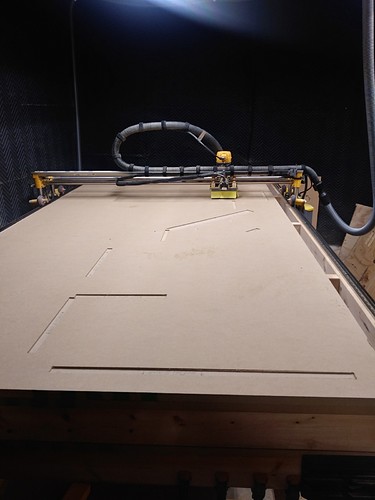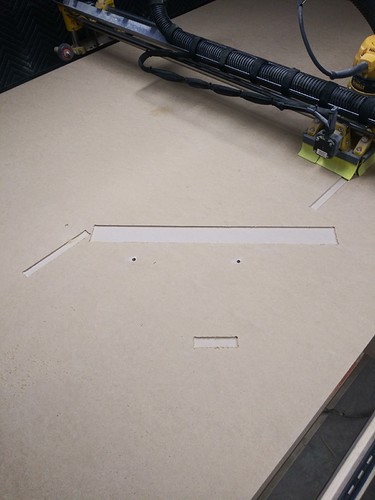 On a side note. I noticed someone had printed out a dust shoe that wrapped all the way around the 611 plate. I liked it, and printed one of my own. Only I did it just a tad differently. Would this work? I'm not sure how much torque the motors have on the z axis during a plunge, and these bristles are pretty stiff.