THE DATA TABLE
(Fellow forum members: I seek your help with filling in blanks and adding additional devices & info.)
*source for quoted spec on E3D Volcano…
*source for quoted spec on E3D V6…
*logic for stats on E3D Titan is that it is a remix of the V6 hotend.
I'm just gathering information both for myself and others.
In my considerations/preparations for building a CoreXY printer, which is quite likely to be one of the latest MP3DP designs by V1…
I have been researching what extruder and hotend to get (or to use from my stash). I'm seeing how the Max Flow Rate of a hotend (in mm³/s) can be compared to the Flow Rate (FR) of one's desired printing plan, using the printing formula below:
FR = Nozzle size (mm) x layer height (mm) x print speed (mm/s) = mm³/s.
I am also attempting to document what is the Max Flow Rate (MFR) of various hotends I either possess or have some interest in.
Speaking of which, there is a fabulous calculator tool at 3dpassion.com/nova that instantly feeds back the correlation between nozzle diameter, layer height, flow rate (mm³/s), filament diameter, extruder speed, and printing speed (mm/s).
Nova calculator screen shot: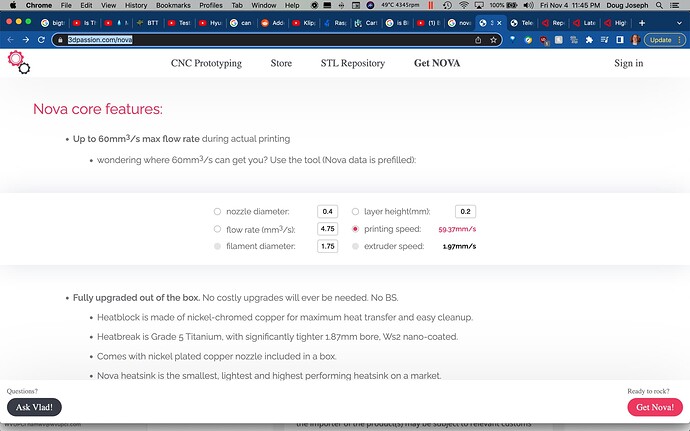 BIQU B1
I own several BIQU B1's. I searched for a published MFR for its stock hotend / extruder combo, but did not find it. However, I found the following published info:
| BIQU B1 Printer, stock config: | |
| --- | --- |
| Max operating speed | 120mm/s |
| Max Printing Speed | 120mm/s |
| Normal Printing Speed | 60mm/s |
Then, by use of the Nova calculator, I deduced a decently reasonable estimate of the Normal Flow Rate and Max Flow Rate of a BIQU B1 printer based on its printing speeds — assuming 0.4mm nozzle and 0.2mm layer height. See data table above.
BIQU H2
Also, quite some time back I bought a BIQU H2 extruder/hotend combo. I was curious to see how much better, if any, its MFR is compared to the B1. Generally, I've been very impressed with the B1's and I have been able to push fairly substantial amounts of filament through their stock heads and boosted print speeds. Still, for the then-pricey purchase of the H2 (~$100 then, currently on sale ~$64 or so, for the whole "pre Black Friday" whatever) I had the "impression" the MFR of the H2 would be better. Based on my research, apparently not by much. I found a published "Extrusion Volume" for the H2 of "600mm/min" — BUT NOTE: that's per minute, not per second! That works out to only 10 mm³/s — either right at, or barely above, the MFR of 9.6 mm³/s of the stock B1! See data table above for comparison.
Ender 3 (V2/Pro) — and related Micro Swiss combo
I have a Micro Swiss direct drive extruder hotend combo, which is a "drop-in" replacement for an Ender 3 stock setup. I cannot find published specs, but my sense is: 1) it is better than the stock Creality setup, 2) I could not say how much better. I say all this as I used it to replace the stock Creality stuff on an Ender 3 v2.
On this site here, is the following quoted reference to Creality's monstrously dubious claim of a max print speed of 200 mm/s for the Ender 3 (V2/Pro). I would have to agree that it's more likely max travel speed, not max print speed. If it was actually max print speed, it would mean the Ender 3 (V2/Pro) extruder and hotend are capable of a Max Flow Rate of 16 mm³/s! That's ridiculous. I'm not buying it.
"The maximum print speed for the Ender 3s is 200 mm/s, according to the manufacturer. However, that's much faster than most users would be able to run it. In fact, this is usually the speed of a travel move rather than a print move."
Anyone have other info to add?