Hi,
I'm giving away a complete set of 3D-printed parts for a Mostly Printed CNC Primo F-25mm. I'm moving soon and can't take the MPCNC with me.
The parts were printed in late May to early June 2021 with good quality, black Ultimaker PLA, fulfilling the specified slice settings from the official documentation. All parts were printed with 50% infill, except the core which was infilled with 75%.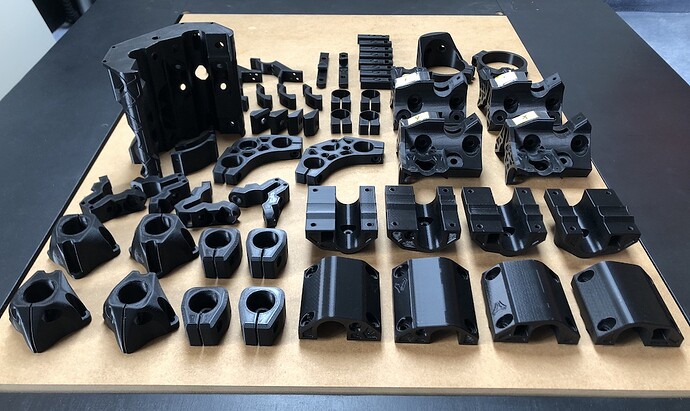 Again, you'll receive all 3D-printed parts for a base setup with 25mm stainless steel tubing:
Corner
2 Corner Bottom
2 Corner Bottom Mirrored
2 Corner Top
2 Corner Top Mirrored
2 Lower Belt
2 Lower Belt Mirrored
2 Upper Belt
2 Upper Belt Mirrored
4 Corner Leg Lock
4 Feet
4 Stop Block
Trucks
2 Truck
2 Truck Mirrored
4 Truck Clamp
Z-Axis
1 Z-Motor
1 Z-Couple
2 Nut Trap
1 Upper Tool Plate
1 Lower Tool Plate
Center Assembly
2 Core Z Clamp 1
2 Core Z Clamp 2
3 Core Clamp
1 Core Clamp Y
1 Core
Note: The 2 wire darryls mentioned in the truck assembly guide are not included. I never printed those, since they are not necessary for the build (in my opinion). I easily managed without.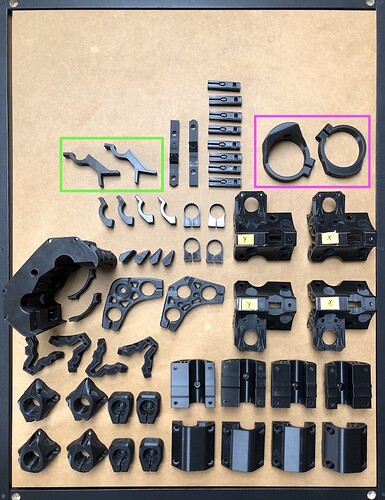 You'll additionally receive 2 modified truck clamps (green) for the y-axis. These allow you to fix a horizontal support along the y-axis for easier cable management.
Furthermore, you'll receive both Makita Rt700(X) tool mounts (pink).
The pen mount is broken and currently not included, but I can provide a new one if necessary.
This is a give away, which means that I won't charge for the 3D-printed parts, but you'll have to pay for packaging and shipping!
I live in Central Europe and I'd prefer to ship to Europe also.
Shipping and packaging to Europe is 17.00€. You can message me for an international quote, but no promises.