Hi
I'm in the process of printing parts with a prusa mini+. Most parts I print with PLA, works pretty well, no problems so far.
Some parts, like the trucks, the core, the holding clamp for the makita I print in CPE.
But there is a problem, Just after printing the trucks to parts "cracked". One while removing from the printer, the other when applying just the slightest stress with my hands. A spilt formed over the the holes (see image). It seems there was tension in the parts. The part is horribly thin there, so that certainly didn't help.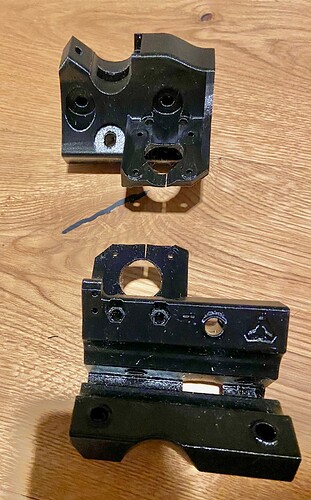 I'm not sure if this split is a problem, if I need to reprint, or just glue it or leave it. Not sure if the dimensions are off now. I will find out on assembly.
I have used Fillamentum CPE HG100 and the appropriate preset for exactly that fillament in prusa slicer. The temperature settings seemed in accordance with what fillamentum recommends. The print was stuck to the surface like crazy. Removed some of the lamination from the print-surface when it finally got loose.
Anyways. Just wanted to let others know, that printing the trucks with that config (Prusa mini+, Fillamentum CPE HG100, Prusa Slicer with HG100 preset, 0.5mm nozzle) you might get warped parts.
Right now I'm not sure if I'll print the core like this, or just use regular PLA.
Good Luck!