Short and Stout, love it!
kyle did you use the burly c plans as i see ure using emt conduit did you find the 3/4" conduit to be super tight in the feet?
I didn't have too much trouble getting the feet to fit. My only real "issue" was the nuts didn't stay captive and had to use a flat head screwdriver on the nuts to hold them while tightening. Other then that the design could not have been better! Super impressed by all the hard work that's been put into this by the v1 team. There support is amazing too. Kudos v1!
Just a quick update,
I've added:
spindle speed control for the dw660 using a router speed controller
an endurance 3.5watt laser with a mount on the dw660, and dust covers
modified the x y endstops to have zip tie brackets to prevent me from accidentally knocking them off all the time.
Octoprint on a raspberry pi with all the custom commands I need for CNC
And old Android TV I am using to control octoprint in the shop
I made some firmware modifications too:
Bed sizes input to prevent time out during homing
M73 enabled for octoprint
Aayrns Laser fix
Software end stops enabled for my bed size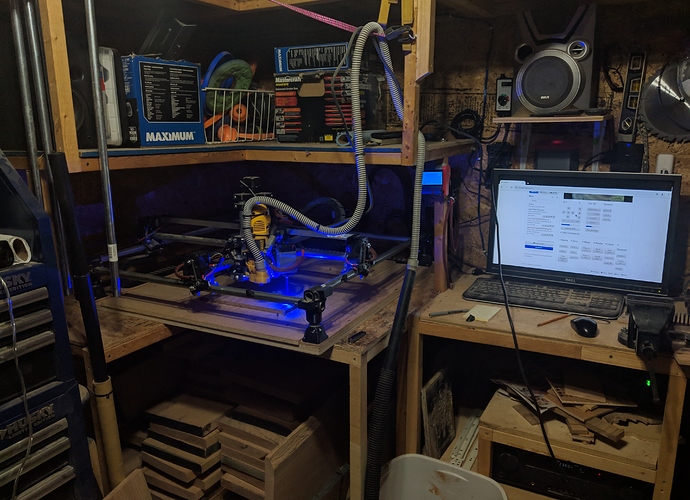 I have been using and slowly making changes to this since last year.
Here is my thingiverse collection of items I have printed for the MPCNC, some of which are custom items I have designed, but huge thanks to the group here for the troubleshooting and support!
Pretty sweet seeing the progression.