Hi all! Excited to get this project underway. I am starting a build of the MPCNC Primo with a 24" by 36" work area. I'm using the 23.5" C parts, printed on a Prusa i3 MK3S clone I built about a year ago.
I'm using @Ryan 's hardware kit and the SKR1.2 board and have a Makita RT0701C on order.
I've built a 48" square table since the table size requirements are about 48"x36", leaving some room in the front for tools, controls, or a computer.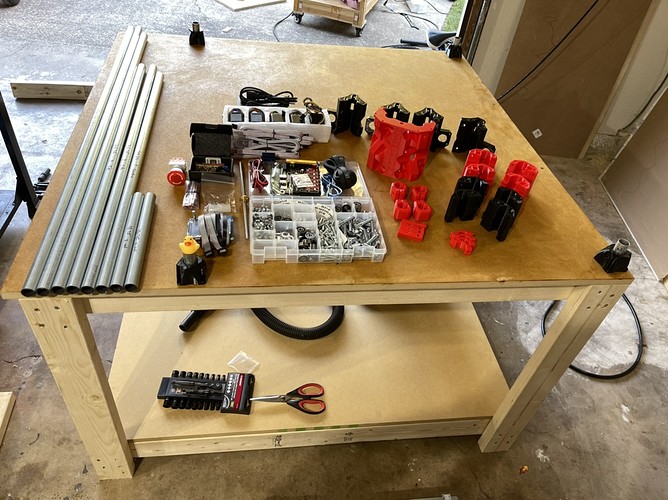 I'll primarily be cutting wood, but will certainly dabble with the pen plotter/ drag knife. I may try some aluminum and carbon fiber (in a water bath) at some point. Lastly, I'm interested in building a needle cutter for foam board - I'm a long time fan of FliteTest and have previously build several foam board airplanes, including ones I laser cut at a local Makerspace.
I'm nearly done with printing parts, with a bunch of the smaller parts arranged on the build plate going as my final print. I still need to print the tool holders and possibly an electronics box.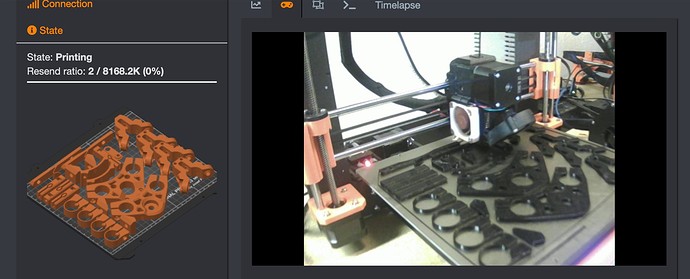 Stuff to figure out still:
CAM software, I use Fusion360 for CAD
Control software, I've used Mach3 years ago, and my
local makerspace uses VCarve
Computer, touchscreen housing, pendant or game controller