Hey,
So, you cut power to the motors, one side plunges down, the other can be pushed down fairly easy. Both are touching the bottom. You jog Z back up and one side goes up before the other, what happened? The springy part of the coupler is a half to a quarter turn different on each side. OK, you cut power again, drop it, and turn each one until they look the same, now it rises in unison, but how accurate is that?
I did several hours worth of bed leveling with a 1/8" bit to see what the result would be (and to sort of stress test the accuracy and long run time of the machine before cutting good wood). I forgot to take my pen out and it ran out of ink, but it kept running over the same lines, so squares seem pretty accurate to the eye. There is a slight rise of a few mm near the edge, and slight sag because I need to do a proper table, I knew that, but I think I may need a better Z calibration or homing so that at least one source of inaccuracy is eliminated.
I have been putting a metal straight edge under the bit and lowering the router until it lands on it, the move z up 1, remove it, lower Z 2.1 and that is pretty close, the cutting part of the bit still not really in play. Regardless of how close I set Z it should be the same along X.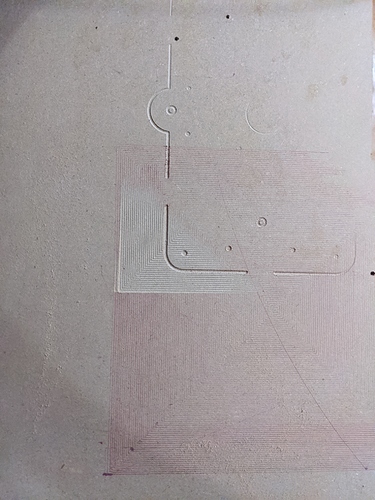 The cutout outline (through 1/4"" plywood) goes from no contact to a few mm deep in the space of a foot wide, I am thinking this isn't all sag, but one end being slightly higher than the other when starting. I should probably re-tighten the brass ring a bit as well, the quest for simultaneous freefall isn't worth losing accuracy, and that requires the router be centered for me.
Solutions?
Has anyone run the Z with the extruder motor (mini rambo)? Is that overkill, is there a better solution? Can you avoid stretch in the coupler so when the motor engages, there is immediate movement? Where does one place an end stop for the Z axis? I have momentary switches, reed switches and magnets, proximity sensors on the way, what solutions have you come up with?
Cheers!