This will be my second cnc from V1 my first being the MPCNC. My frame of mind while building the MPCNC was "do it as cheaply as possible cause there is no way its going to work anyway what with all the 3d printed parts." It's hard to point to a time I've been quite so wrong.
I did an absolutely terrible job building my MPCNC (bad tolerance on my prints, low quality bearings, hilariously unsquared table) and yet its turned out some incredible pieces and paid for itself multiple times over. So it's time to step up and at least do a mediocre job building a far larger machine. I have a pretty decent need for a machine that I can drop full sheet goods into and let it rip so im going to bite the bullet and go full 5x10. I am however making design provisions for being able to reduce that size in the future if I find my full sheet need dwindling.
One of my biggest stumbling blocks on the MPCNC was a lack of a plan going into the build. Turns out I'm pretty terrible at thinking on my feet out in the garage. To that end I decided to make myself some accurate CAD files of the Low Rider so I could properly check for interference or make modifications I needed before proceeding to 3D print.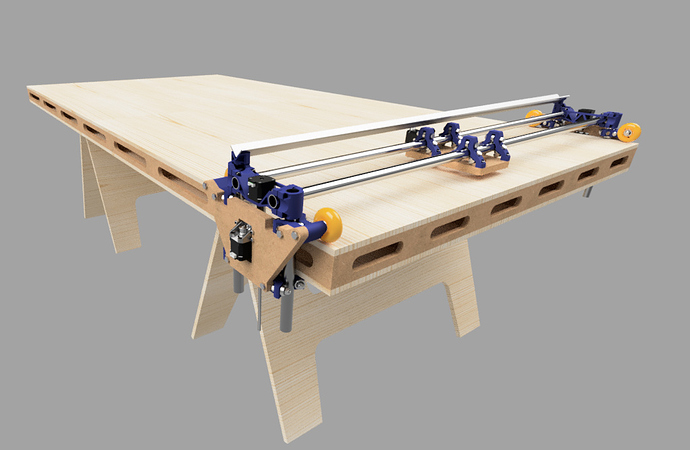 I will be adapting a Paulk style torsion box work surface as this provides a nice tradeoff between weight and stiffness. It also features removable sawhorse style legs. I'm going this route because my primary goal is to be able to hoist this up onto the wall for storage when it's not in use. From my calculations this whole setup weighs just under 200lbs which should be pretty easy to crank up onto wall with a winch of some kind and then lock into place.
Just need to design the winch and wall mount system and I can start buying material.