DR Frankenstein made a hybrid monster from human remains. I am …
3DR Frankenstein making a Hybrid machine from 3D Printer remains.
This is my fun little 3D printer build project. I am using what I have learned from the MANY 3D printers I have tinkered with and dismantled to build something simple with all the best features I have grown to appreciate. Why? Mostly because I have a lot of parts just sitting around but I also think it's fun.
This is a work in progress and some things will change.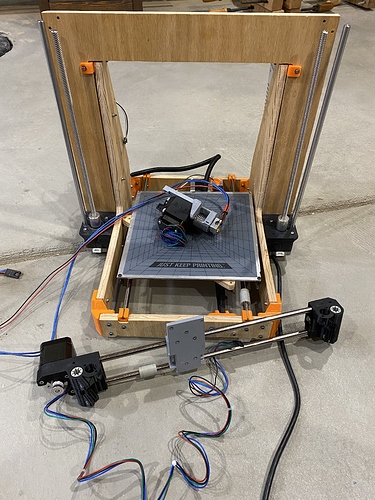 Google photo album

This printer is made of:
MP3DP (frame and some Y axis parts)
Prusa "Bear mod" (x axis)
BGM bondtech w/ BLTouch mod
Custom Z axis to make them compatible
Custom Y axis Parts to make it smooth and reliable.
Parts were salvaged from old prusa i3 clone called "Migbot", XYZ Davinci Duo, and a few other printers.
Duet Maestro control board
E3D V6 hot end