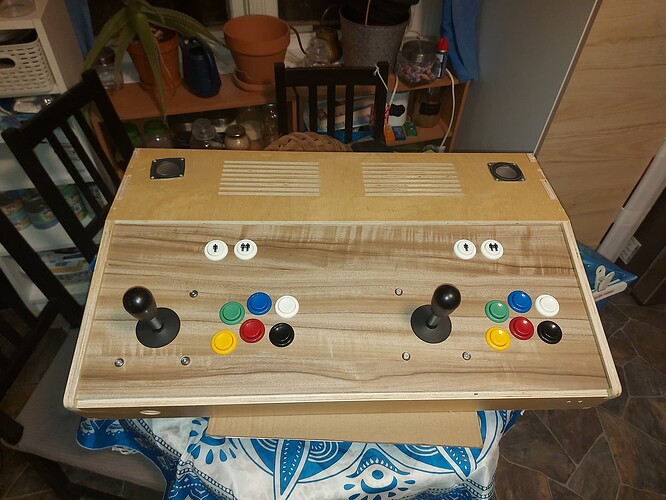 So several years back I made a retro arcade slab. The top panel was laser cut 1/4" acrylic, and I used some 36X6X1/4" poplar to put a box under it, which held a PC mainboard. It worked quite well. Some 3D printed pieces held the hard disk, and a few other touches made it work reasonably well.
But it was a big rectangular box, and some things needed improvement. Like there was no ventilation, no speakers, and the wires from the joysticks kept getting caught in the CPU fan.
The games themselves, good. Portability, also good. The joysticks are excellent for the retro look and feel, but just a little wrong. They sat just a little too high, and those arcade machines never had the control deck perfectly level, they sit at a 10-15° angle.
So… this. The same control deck, because it works. That acrylic piece is 26X9.5" so the box fits it into slots in the side pieces. There is a center brace to keep it from being pushed in, which also supports the hard disk. (Standard 3.5" disk format.) There is a micro ATX mount pattern on the bottom set up to meet with 1/4" stand offs and the rear I/O panel fits into the back. There is no support for add on cards, so it needs to be a motherboard with built-in video, but that isn't a problem nowadays. I have drawings to add card support, but it can't deal with full length video cards. Not sure it's a good idea either.
I would not put those vents in the top again, unless cutting that panel from.something that does not have grain. They tore out the top surface badly even with a brand new Kyocera single flute ot was awful. I might make another one as a gift, probably will be made from MDF. A little heavier, a little less expensive. Maybe.
I put in little 2" speakers. There is still the option to use the motherboard speaker outputs, these hacr a little amp connected to the AC97 header panel on the motherboard. It won't be fantastic sound, but should be good enough, and it's lightweight.
Designed in Fusion360, and cut on my LowRider3