I have an issue unrelated to V1 Engineering products but you all are the people I feel can help most.
I have an Ortur Laser Master 2 and have been printing my company's logo on large wooden crates. I have been having issues with the laser seeming "shifting" its work area and ruining my engravings. See below.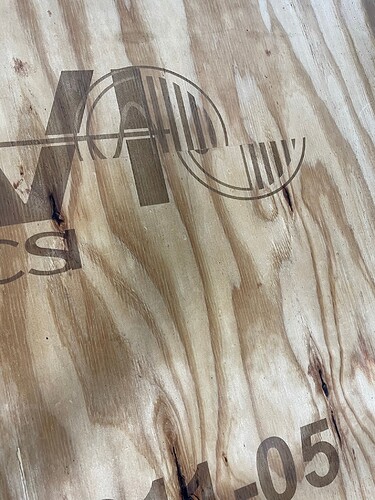 For your reference, that circular logo part should be a nice circle and it clearly is not. My initial thought was the belts were skipping on the drive pulley so I tightened up the belts a bit and tried again, same thing happened. Next thought may be that people in the shop are bumping the crate during process. But the size of this shift is much larger than the frame would ever really move plus I measure the frames location before and after and it hasn't moved.
Now, at my house over the years I have always used my laptop which is a great laptop with good specs and I have never had this issue. Here at my company's workshop I am using a Windows tablet and I begin to wonder if messes up with Lighburn at random points during the engraving. I can't really prove any theory without starring at the engraving or the 4 hours that its running but thats not practical.
I am going to use a laptop tomorrow instead of the tablet and see if it performs better. Hopefully that is the answer.
Just putting this on here to see if anyone has had this issue before or has insight.