Now that my spoilboard is good and flat, I figured it was time to get off my butt with the touch plate replacement.
I've been setting most of my jobs from the lower bottom left corner, anyway, so I put a momentary switch in a little case I made on the printer.
Zeroed off the spoilboard with the tiny touch plate, ram a g32 on the switch, did the arithmetic and used that to figure out the trigger height (which I wrote on the spoilboard because I know I'm gonna forget and then delete my macro or something).
Also helps that I just learned about g53. For everyone who didn't know, that moves to the machine coordinate, say g53 x1y12, without disturbing the work coordinate. Maybe somebody can clue me in if I'm off, but I think - 54,g55,etc are all offsets of the g53 space. So really, I'm just telling it to move in THAT space for one line of code. That means I get to set my origin wherever I need it, and when the gcode pauses to change tools, I can do that and run a macro that sends me over to the switch (which never moves).
Worked pretty well on a job I ran tonight.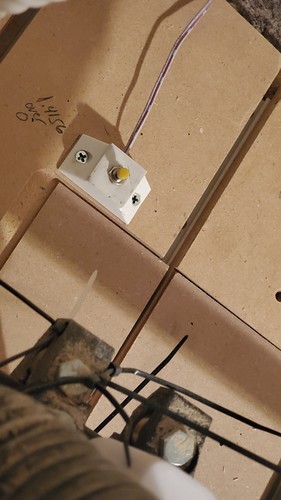 Edit : seems like I should note that I'm keeping the tone touchplate too, for times it's better than this.