Good morning,
Finishing an LR2 build that I've had around for ages (lack of time). Build is complete, but I'm encountering an issue
If I drill one area without raising the toolhead, all is fine. But on the second area where the tool head need to be raised to reach it, it actually drags on wood, and the resulting cut is deeper. It seems it's losing steps when raising.
We confirmed this by removing the spindle, and simply adding a little bit of pressure on the stepper motor, we could hear the stepper motor losing steps.
Reading through some material on this forum, I've found to leads to investigate:
1/ Check VREF level
2/ check Z connector for second stepper motor and ensure it's using a dedicated mosfet
the control board is a mini Rambo, and there start my problems…
On 1/, I could not find material on the Internet that would allow me to adjust Vref. Looks like mini Rambo control the stepper motor current using a PWM, and it's defined by SW when compiling Marlin. Not exactly practical for trial and error, unless I missed something ?
On 2/ Indeed, I'm using both Z connector. The connector next to it is free (E0), but I'm unsure if the default firmware will use it to control the second stepper motor. I'm using V1 engineering mini Rambo firmware, no change
I tried to look in the firmware source code, but i'm not too familiar with Marlin config option, and could not find where dual stepper motor driver could be defined
To note:
we use Fusion360 with the post processor, and don't touch the G-Code
We checked the coupling, tightened the coupler screws, and added grease to the leadscrew
When drilling the first pocket, depth is constant, it's when raising that it fails to raise all the way
See picture of three consequent areas drilled during the same phase, first area is fine, second area is deeper than what it should be, third area is even deeper (from bottom to top)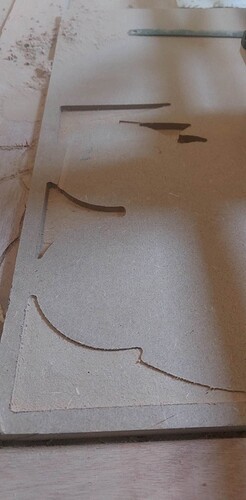 Any advice would be appreciated
Regards